Global reach, higher impact
International Journal of Medical Sciences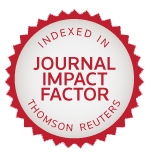 Int J Biol Sci 2007; 3(4):225-236. doi:10.7150/ijbs.3.225
Research Paper
MCEF is localized to the nucleus by protein sequences encoded within three distinct exons, where it represses HIV-1 Tat-transactivation of LTR-directed transcription
1. Ryerson University, Department of Chemistry & Biology, Toronto, Ontario, M5B2K3, Canada.
2. University of Guelph, Department of Chemistry, Guelph, Ontario, Canada.

Translocations between the human Mixed Lineage Leukemia (MLL) and AF4 Family (AFF) member genes, are implicated in leukemia. Mutations to AFFs can disrupt lymphopoesis, CNS development and spermatogenesis. However, despite the growing list of pathologies linked to AFF members, their evolutionary relationship and the structure/function of individual members, remain to be elucidated. Here, we first report that database mining and phylogenetic analysis with AFF proteins from multiple species, revealed two monophyletic sister clades, suggesting a common Bilateria ancestor. We then examined the structure/function of the most recently discovered AFF member, MCEF (also known as AF5q31 or AFF4). In silico, the human MCEF gene was found to have 21 exons, and code for a protein with seven nuclear localization sequences (NLS). In HeLa cells, an MCEF-EGFP fusion protein, localized exclusively to the nucleus. Consequently, we made twenty constructs, expressing MCEF deletion mutants fused to EGFP and/or DsRed fluorescent proteins. Three distinct protein sequences, encoded by three separate MCEF exons, were found to mediate nuclear localization, only two of which were predicted in silico. Importantly, we also found that ectopic expression of MCEF, repressed HIV-1 LTR-directed RNA Polymerase II transcription, at the level of Tat-transactivation. We suggest that portions of MCEF could be exploited for chimeric transcription factor repression (CTFR) of HIV-1.
Keywords: Transcription, MCEF, AF5q31, AFF4, NLS, HIV, Tat
How to cite this article:
Niedzielski MF, Hopewell R, Ismail Z, Estable MC. MCEF is localized to the nucleus by protein sequences encoded within three distinct exons, where it represses HIV-1 Tat-transactivation of LTR-directed transcription.
Int J Biol Sci
2007; 3(4):225-236. doi:10.7150/ijbs.3.225. Available from
http://www.ijbs.com/v03p0225.htm