Global reach, higher impact
International Journal of Medical Sciences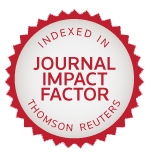 Int J Biol Sci 2009; 5(4):344-350. doi:10.7150/ijbs.5.344
Research Paper
THE EXPRESSION OF APELIN AND ITS RECEPTOR APJ DURING DIFFERENT PHYSIOLOGICAL STAGES IN THE BOVINE OVARY
Physiology Weihenstephan, Technical University Munich, Freising, Germany

Recent studies implicate that apelin and its receptor APJ may have important role for the modulation of angiogenesis. The aim of this study was to further characterise the regulation of apelin/APJ system in bovine ovary. Experiment 1: corpora lutea (CL) were assigned to the following stages: days 1-2, 3-4, 5-7, 8-12, 13-16, >18 (after regression) of oestrous cycle and of gravidity (month <3, 3-5, 6-7 and >8). Experiment 2: Follicles during maturation were divided into granulosa cells (GC) and theca interna (TI) and were examined separately. Classification of follicles occurred by follicle size and oestradiol-17β (E2) concentration in the follicular fluid (FF) (<0.5 ng/ml, 0.5-5 ng/ml; 5-40 ng/ml; 40-180 ng/ml; >180 ng/ml). Real-time RT-PCR (qPCR) was applied to investigate mRNA expression of examined factors. In general, the expression level of apelin during the oestrous cycle was significantly higher compared to the one during pregnancy. Apelin mRNA levels were always high during the cycle with a tendency of decrease after CL regression. The APJ mRNA in the CL was significantly up regulated on days 5-7 and 8-12 followed by a decrease on days 13-16, and further on days >18. The expression of APJ does not show any significant regulation in the CL throughout pregnancy. The expression of apelin and APJ was not statistically regulated in GC, but was significantly up regulated in follicles with an E2 concentration of more than 5 ng/ml and showed an increase according to growth and maturation of follicles. In conclusion, our data suggest that apelin/APJ system is involved in the mechanism regulating angiogenesis during follicle maturation as well as during CL formation and function in the bovine ovary.
Keywords: apelin, angiogenesis, bovine ovary, follicle, corpus luteum
How to cite this article:
Schilffarth S, Antoni B, Schams D, Meyer HH, Berisha B. THE EXPRESSION OF APELIN AND ITS RECEPTOR APJ DURING DIFFERENT PHYSIOLOGICAL STAGES IN THE BOVINE OVARY.
Int J Biol Sci
2009; 5(4):344-350. doi:10.7150/ijbs.5.344. Available from
http://www.ijbs.com/v05p0344.htm