Global reach, higher impact
International Journal of Medical Sciences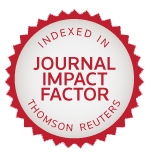 Int J Biol Sci 2009; 5(6):517-527. doi:10.7150/ijbs.5.517
Research Paper
Gene expression profiling of chromophobe renal cell carcinomas and renal oncocytomas by Affymetrix GeneChip using pooled and individual tumours
Laboratory of Molecular Oncology, Medical Faculty, Ruprecht-Karls University, Heidelberg, Germany
* Present address: Department of Forensic Molecular Biology, Erasmus University Medical Centre Rotterdam, P.O. Box 2040, 3000 CA Rotterdam, The Netherlands

Due to overlapping morphology, malignant chromophobe renal cell carcinomas (RCC) and benign renal oncocytomas (RO) may pose a diagnostic problem. In the present study, we have applied different algorithms to evaluate the data sets obtained by hybridisation of pooled and also individual samples of renal cell tumours (RCT) onto two different gene expression platforms. The two approaches revealed high similarities in the gene expression profiles of chromophobe RCCs and ROs but also some differences. After identifying the differentially expressed genes by statistic analyses, the candidate genes were further selected by a real time and normal RT-PCR and their products were analysed by immunohistochemistry. We have identified CD82 and S100A1 as valuable markers for chromophobe RCC as well as AQP6 for ROs. However, these genes are expressed at the protein level in other types of RCTs as well albeit at a low frequency and low intensity. As none of the selected genes marks exclusively one type of RCTs, for the differential diagnosis of chromophobe RCCs and ROs, a set of markers such as CD82, S100A1 and AQP6 as well as some others would be an option in routine histological laboratories.
Keywords: chromophobe renal cell carcinoma, gene expression profile, real-time PCR, IHC, diagnosis.
How to cite this article:
Yusenko MV, Zubakov D, Kovacs G. Gene expression profiling of chromophobe renal cell carcinomas and renal oncocytomas by Affymetrix GeneChip using pooled and individual tumours.
Int J Biol Sci
2009; 5(6):517-527. doi:10.7150/ijbs.5.517. Available from
http://www.ijbs.com/v05p0517.htm