Global reach, higher impact
International Journal of Medical Sciences
Journal of Bone and Joint Infection (JBJI)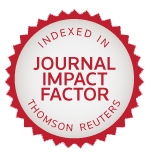 Int J Biol Sci 2009; 5(7):745-757. doi:10.7150/ijbs.5.745
Research Paper
A receptor and binding protein interplay in the detection of a distinct pheromone component in the silkmoth Antheraea polyphemus
University of Hohenheim, Institute of Physiology (230), Garbenstrasse 30, 70599 Stuttgart, Germany

Male moths respond to conspecific female-released pheromones with remarkable sensitivity and specificity, due to highly specialized chemosensory neurons in their antennae. In Antheraea silkmoths, three types of sensory neurons have been described, each responsive to one of three pheromone components. Since also three different pheromone binding proteins (PBPs) have been identified, the antenna of Antheraea seems to provide a unique model system for detailed analyzes of the interplay between the various elements underlying pheromone reception. Efforts to identify pheromone receptors of Antheraea polyphemus have led to the identification of a candidate pheromone receptor (ApolOR1). This receptor was found predominantly expressed in male antennae, specifically in neurons located beneath pheromone-sensitive sensilla trichodea. The ApolOR1-expressing cells were found to be surrounded by supporting cells co-expressing all three ApolPBPs. The response spectrum of ApolOR1 was assessed by means of calcium imaging using HEK293-cells stably expressing the receptor. It was found that at nanomolar concentrations ApolOR1-cells responded to all three pheromones when the compounds were solubilized by DMSO and also when DMSO was substituted by one of the three PBPs. However, at picomolar concentrations, cells responded only in the presence of the subtype ApolPBP2 and the pheromone (E,Z)-6,11-hexadecadienal. These results are indicative of a specific interplay of a distinct pheromone component with an appropriate binding protein and its related receptor subtype, which may be considered as basis for the remarkable sensitivity and specificity of the pheromone detection system.
Keywords: Insect, olfaction, pheromone detection, receptor, pheromone binding protein
How to cite this article:
Forstner M, Breer H, Krieger J. A receptor and binding protein interplay in the detection of a distinct pheromone component in the silkmoth
Antheraea polyphemus
.
Int J Biol Sci
2009; 5(7):745-757. doi:10.7150/ijbs.5.745. Available from
http://www.ijbs.com/v05p0745.htm