Global reach, higher impact
International Journal of Medical Sciences
Journal of Bone and Joint Infection (JBJI)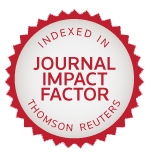 Int J Biol Sci 2010; 6(3):213-224. doi:10.7150/ijbs.6.213
Research Paper
Analysis of differentially expressed mitochondrial proteins in chromophobe renal cell carcinomas and renal oncocytomas by 2-D gel electrophoresis
1. Laboratory of Molecular Oncology, Medical Faculty, Ruprecht-Karls University, Heidelberg, Germany
2. ZMBH, Core Facility for Mass-Spectrometry and Proteomics, Heidelberg, Germany

Renal oncocytomas (RO) and chromophobe renal cell carcinomas (RCC) display morphological and functional alterations of the mitochondria. Previous studies showed that accumulation of mitochondria in ROs is associated with somatic mutations of mitochondrial DNA (mtDNA) resulting in decreased activity of the respiratory chain complex I, whereas in chromophobe RCC only heteroplasmic mtDNA mutations were found. To identify proteins associated with these changes, for the first time we have compared the mitochondrial proteomes of mitochondria isolated from ROs and chromophobe RCCs as well as from normal kidney tissues by two-dimensional polyacrylamide gel electrophoresis. The proteome profiles were reproducible within the same group of tissues in subsequent experiments. The expression patterns within each group of samples were compared and 81 in-gel digested spots were subjected to nanoLC-MS/MS-based identification of proteins. Although the list of mitochondrial proteins identified in this study is incomplete, we identified the downregulation of NDUFS3 from complex I of the respiratory chain and upregulation of COX5A, COX5B, and ATP5H from complex IV and V in ROs. In chromophobe RCCs downregulation of ATP5A1, the alpha subunit of complex V, has been observed, but no changes in expression of other complexes of the respiratory chain were detected. To confirm the role of respiratory chain complex alterations in the morphological and/or functional changes in chromophobe RCCs and ROs, further studies will be necessary.
Keywords: chromophobe renal cell carcinoma, mass spectrometry, mitochondria, renal oncocytoma, 2-D PAGE.
How to cite this article:
Yusenko MV, Ruppert T, Kovacs G. Analysis of differentially expressed mitochondrial proteins in chromophobe renal cell carcinomas and renal oncocytomas by 2-D gel electrophoresis.
Int J Biol Sci
2010; 6(3):213-224. doi:10.7150/ijbs.6.213. Available from
http://www.ijbs.com/v06p0213.htm