Global reach, higher impact
International Journal of Medical Sciences
Journal of Bone and Joint Infection (JBJI)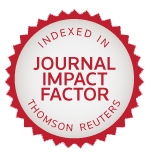 Int J Biol Sci 2011; 7(6):869-880. doi:10.7150/ijbs.7.869
Research Paper
Dimerumic Acid Inhibits SW620 Cell Invasion by Attenuating H2O2-Mediated MMP-7 Expression via JNK/C-Jun and ERK/C-Fos Activation in an AP-1-Dependent Manner
1. Department of Surgery, National Taiwan University Hospital, Taipei, Taiwan.
2. Department of Biochemical Science & Technology, College of Life Science, National Taiwan University, Taipei, Taiwan.
3. Department of Surgery, Cheng-Ching General Hospital Chung-Kang Branch, Taichung, Taiwan.

Reactive oxygen species (ROS) such as hydrogen peroxide (H2O2) in the tumor microenvironment play important roles in tumor invasion and metastasis. Recently, ROS have been reported to cause a significant increase in the production and expression of matrix metalloproteinase (MMP)-7, which is closely correlated with metastatic colorectal cancer. The present study was undertaken to evaluate the scavenging activity of dimerumic acid (DMA) for H2O2 isolated from Monascus-fermented rice to investigate the inhibitory effects of DMA on the invasive potential of SW620 human colon cancer cells, and to explore the mechanisms underlying both these phenomena. Our results showed that increased MMP-7 expression due to H2O2 exposure was mediated by activation of mitogen-activated protein kinases (MAPKs) such as Jun N-terminal kinase (JNK), extracellular-regulated kinase (ERK), and p38 kinase. DMA pretreatment suppressed activation of H2O2-mediated MAPK pathways and cell invasion. Moreover, H2O2-triggered MMP-7 production was demonstrated via JNK/c-Jun and ERK/c-Fos activation in an activating protein 1 (AP-1)-dependent manner. Taken together, these results suggest that DMA suppresses H2O2-induced cell invasion by inhibiting AP-1-mediated MMP-7 gene transcription via the JNK/c-Jun and ERK/c-Fos signaling pathways in SW620 human colon cancer cells. Our data suggest that DMA may be useful in minimizing the development of colorectal metastasis. In the future, DMA supplementation may be a beneficial antioxidant to enhance surgical outcomes.
Keywords: dimerumic acid, H2O2, MAPK, metastasis, MMP-7, ROS.
How to cite this article:
Ho BY, Wu YM, Chang KJ, Pan TM. Dimerumic Acid Inhibits SW620 Cell Invasion by Attenuating H
2
O
2
-Mediated MMP-7 Expression via JNK/C-Jun and ERK/C-Fos Activation in an AP-1-Dependent Manner.
Int J Biol Sci
2011; 7(6):869-880. doi:10.7150/ijbs.7.869. Available from
http://www.ijbs.com/v07p0869.htm