Global reach, higher impact
International Journal of Medical Sciences
Journal of Bone and Joint Infection (JBJI)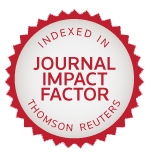 Int J Biol Sci 2012; 8(8):1130-1141. doi:10.7150/ijbs.4769
Research Paper
FOXC1 Contributes To Microvascular Invasion In Primary Hepatocellular Carcinoma Via Regulating Epithelial-Mesenchymal Transition
1. Key Laboratory of Combined Multi-organ Transplantation, Ministry of Public Health; Key Laboratory of Organ Transplantation, Zhejiang Province; Hangzhou, Zhejiang, China;
2. Division of Hepatobiliary and Pancreatic Surgery, Department of Surgery, First Affiliated Hospital, Zhejiang University School of Medicine; Hangzhou, Zhejiang, China.
* These authors contributed equally to this work.

The existence of microvascular invasion (MVI) formation is one of the most important risk factors predicting poor outcome in hepatocellular carcinoma (HCC) and its mechanism remains largely unknown. Epithelial-Mesenchymal Transition (EMT) has been suggested to be involved in many steps of the invasion-metastasis cascade. To elucidate the possible contribution of EMT to MVI, we initially evaluated the expression of 8 EMT-related transcription factors (TFs) in HCC patients with or without MVI and found that FOXC1 expression was significantly higher in patients with MVI than those without MVI (P < 0.05). Knockdown of FOXC1 expression in HCC cells resulted in a partial conversion of their EMT progresses, mainly regulating the mesenchymal component. Ectopic expression of snail, twist or TGF-β1 could induce expression of FOXC1, but none of the expression of snail, twist, slug or TGF-β was consistently down-regulated in response to FOXC1 silencing, suggesting FOXC1 might operate the downstream of other EMT regulators. In addition, knockdown of FOXC1 expression led to cytoskeleton modification accompanied by decreased ability of cell proliferation, migration, and invasion. Meanwhile, some matrix metalloproteinases (MMPs) and VEGF-A were also simultaneously down-regulated. Together, our findings demonstrate that FOXC1 is one of candidate predictive markers of MVI, and that inhibition of FOXC1 expression can partially reverse EMT program, offering a potential molecular therapeutic target for reducing tumor metastasis in HCC patients.
Keywords: Hepatocellular carcinoma, Microvascular invasion, Epithelial-Mesenchymal Transition, FOXC1.
How to cite this article:
Xu ZY, Ding SM, Zhou L, Xie HY, Chen KJ, Zhang W, Xing CY, Guo HJ, Zheng SS. FOXC1 Contributes To Microvascular Invasion In Primary Hepatocellular Carcinoma Via Regulating Epithelial-Mesenchymal Transition.
Int J Biol Sci
2012; 8(8):1130-1141. doi:10.7150/ijbs.4769. Available from
http://www.ijbs.com/v08p1130.htm