Global reach, higher impact
International Journal of Medical Sciences
Journal of Bone and Joint Infection (JBJI)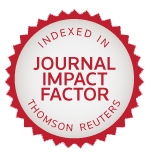 Int J Biol Sci 2014; 10(1):1-14. doi:10.7150/ijbs.7624
Research Paper
Variant Ionotropic Receptors Are Expressed in Olfactory Sensory Neurons of Coeloconic Sensilla on the Antenna of the Desert Locust (Schistocerca gregaria)
1. China Agricultural University, Key Lab for Biological Control of the Ministry of Agriculture, Beijing 100193, China
2. University of Hohenheim, Institute of Physiology, 70593 Stuttgart, Germany
3. Department of Evolutionary Neuroethology, Max Planck Institute for Chemical Ecology, Jena, Germany

The behaviour of the desert locust, Schistocera gregaria, is largely directed by volatile olfactory cues. The relevant odorants are detected by specialized antennal sensory neurons which project their sensory dendrites into hair-like structures, the sensilla. Generally, the responsiveness of the antennal chemosensory cells is determined by specific receptors which may be either odorant receptors (ORs) or variant ionotropic receptors (IRs). Previously, we demonstrated that in locust the co-receptor for ORs (ORco) is only expressed in cells of sensilla basiconica and sensilla trichodea, suggesting that cells in sensilla coeloconica may express different types of chemosensory receptors. In this study, we have identified the genes of S. gregaria which encode homologues of co-receptors for the variant ionotropic receptors, the subtypes IR8a and IR25a. It was found that both subtypes, SgreIR8a and SgreIR25a, are expressed in the antennae of all five nymphal stages and in adults. Attempts to assign the relevant cell types by means of in situ hybridization revealed that SgreIR8a and SgreIR25a are expressed in cells of sensilla coeloconica. Double fluorescence in situ hybridization experiments disclosed that the two IR-subtypes are co-expressed in some cells of this sensillum type. Expression of SgreIR25a was also found in some of the sensilla chaetica, however, neither SgreIR25a nor SgreIR8a was found to be expressed in sensilla basiconica and sensilla trichodea. This observation was substantiated by the results of double FISH experiments demonstrating that cells expressing SgreIR8a or SgreIR25a do not express ORco. These results support the notion that the antenna of the desert locust employs two different populations of OSNs to sense odors; cells which express IRs in sensilla coeloconica and cells which express ORs in sensilla basiconica and sensilla trichodea.
Keywords: locust, olfaction, ionotropic receptors, in situ hybridization
How to cite this article:
Guo M, Krieger J, Große-Wilde E, Mißbach C, Zhang L, Breer H. Variant Ionotropic Receptors Are Expressed in Olfactory Sensory Neurons of Coeloconic Sensilla on the Antenna of the Desert Locust (
Schistocerca gregaria)
.
Int J Biol Sci
2014; 10(1):1-14. doi:10.7150/ijbs.7624. Available from
http://www.ijbs.com/v10p0001.htm