Global reach, higher impact
International Journal of Medical Sciences
Journal of Bone and Joint Infection (JBJI)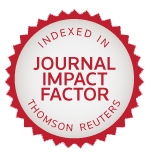 Int J Biol Sci 2015; 11(3):353-360. doi:10.7150/ijbs.9813
Research Paper
Gadd45b is a Novel Mediator of Neuronal Apoptosis in Ischemic Stroke
Department of Neurology, The Second Affiliated Hospital of Chongqing Medical University, Chongqing, China
# Current Addresses: Department of Neurology, Shandong Provincial Qianfoshan Hospital, Shandong University, Jinan, China

Apoptosis plays an essential role in ischemic stroke pathogenesis. Research on the process of neuronal apoptosis in models of ischemic brain injury seems promising. The role of growth arrest and DNA-damage-inducible protein 45 beta (Gadd45b) in brain ischemia has not been fully examined to date. This study aims to investigate the function of Gadd45b in ischemia-induced apoptosis. Adult male Sprague-Dawley rats were subjected to brain ischemia by middle cerebral artery occlusion (MCAO). RNA interference (RNAi) system, which is mediated by a lentiviral vector (LV), was stereotaxically injected into the ipsilateral lateral ventricle to knockdown Gadd45b expression. Neurologic scores and infarct volumes were assessed 24 h after reperfusion. Apoptosis-related molecules were studied using immunohistochemistry and Western blot analysis. We found that Gadd45b-RNAi significantly increased infarct volumes and worsened the outcome of transient focal cerebral ischemia. Gadd45b-RNAi also significantly increased neuronal apoptosis as indicated by increased levels of Bax and active caspase-3, and decreased levels of Bcl-2. These results indicate that Gadd45b is a beneficial mediator of neuronal apoptosis.
Keywords: MCAO, Gadd45b, BDNF, Apoptosis
How to cite this article:
Liu B, Zhang Yh, Jiang Y, Li Ll, Chen Q, He Gq, Tan Xd, Li Cq. Gadd45b is a Novel Mediator of Neuronal Apoptosis in Ischemic Stroke.
Int J Biol Sci
2015; 11(3):353-360. doi:10.7150/ijbs.9813. Available from
http://www.ijbs.com/v11p0353.htm