Global reach, higher impact
International Journal of Medical Sciences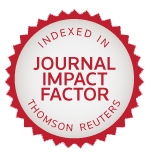 Int J Biol Sci 2007; 3(4):237-241. doi:10.7150/ijbs.3.237
Research Paper
Tyrosine Sulfation of Statherin
1. Oral Biology, NJ Dental School, University of Medicine and Dentistry of New Jersey, Newark, NJ 07103-2400, USA.
2. Current address: Recombinant Technologies LLC, 5 Science Park at Yale, New Haven, CT 06511, USA.

Tyrosylprotein sulfotransferase (TPST), responsible for the sulfation of a variety of secretory and membrane proteins, has been identified and characterized in submandibular salivary glands (William et al. Arch Biochem Biophys 1997; 338: 90-96). In the present study we demonstrate the sulfation of a salivary secretory protein, statherin, by the tyrosylprotein sulfotransferase present in human saliva. Optimum statherin sulfation was observed at pH 6.5 and at 20 mm MnCl2. Increase in the level of total sulfation was observed with increasing statherin concentration. The Km value of tyrosylprotein sulfotransferase for statherin was 40 μM. Analysis of the sulfated statherin product on SDS-polyacrylamide gel electrophoresis followed by autoradiography revealed 35S-labelling of a 5 kDa statherin. Further analysis of the sulfated statherin revealed the sulfation on tyrosyl residue. This study is the first report demonstrating tyrosine sulfation of a salivary secretory protein. The implications of this sulfation of statherin in hydroxyapatite binding and Actinomyces viscosus interactions are discussed.
Keywords: Saliva, statherin, tyrosine sulfation
How to cite this article:
Kasinathan C, Gandhi N, Ramaprasad P, Sundaram P, Ramasubbu N. Tyrosine Sulfation of Statherin.
Int J Biol Sci
2007; 3(4):237-241. doi:10.7150/ijbs.3.237. Available from
http://www.ijbs.com/v03p0237.htm