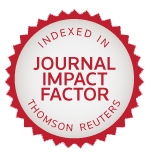 Editor-in-Chief:
Chuxia Deng
, PhD, National Institutes of Health*, Bethesda, MD
* Dr. Deng is serving in his personal capacity.
Editor-in-Chief's Profile

Latest impact factor is 3.168; 5-year journal impact factor is 3.436. Congratulation!
Indexed/covered by MEDLINE, PubMed, Science Citation Index (SCI) Expanded, Current Contents®/Life Sciences, EMBASE, CAS, CABI, Scopus (full index information)
Full texts of articles in PubMed Central, Europe PMC, and PMC Canada.
Rapid review and publication.
(For NIH-funded researchers) Save time by submitting your paper to us - this journal is in full compliance with NIH Public Access Requirement.
High visibility of articles over the Internet.

Most Cited Paper Award: Winners are Brian F. Zamarron and WanJun Chen from National Institute of Dental and Craniofacial Research, NIH, for the paper "Dual Roles of Immune Cells and Their Factors in Cancer Development and Progression". A certificate and $US 1000 have been issued. Winners of previous years.
The new Faculty of Health Sciences in University of Macau is recruiting Chair and Distinguished Professors, Full and Associate Professors, and Assistant Professors. ...full details
Top cited papers:
The synthetic cannabinoid WIN 55,212-2 is a potent cannabinoid receptor agonist with anticancer potential. Experiments were performed to determine the effects of WIN on proliferation, cell cycle distribution, and programmed cell death in human osteosarcoma MG63 and Saos-2 cells. Results show that WIN induced G2/M cell cycle arrest, which was associated with the induction of the main markers of ER stress (GRP78, CHOP and TRB3). In treated cells we also observed the conversion of the cytosolic form of the autophagosome marker LC3-I into LC3-II (the lipidated form located on the autophagosome membrane) and the enhanced incorporation of monodansylcadaverine and acridine orange, two markers of the autophagic compartments such as autolysosomes....details
Biochemical and biophysical processes that take place in muscle under relaxed and stressed conditions depend on the abundance and activity of gene products of metabolic and structural pathways. In livestock at post-mortem, these muscle properties determine aspects of meat quality and are measurable. The conversion of muscle to meat mimics pathological processes associated with muscle ischemia, injury or damage in humans and it is an economic factor in pork production. Linkage, association, and expression analyses independently contributed to the identification of trait-associated molecular pathways and genes. ...details
Vγ9Vδ2 (also termed Vγ2Vδ2) T cells, a major human peripheral blood γδ T cell subset, recognize microbial (E)-4-hydroxy-3-methylbut-2-enyl diphosphate and endogenous isopentenyl diphosphate in a TCR-dependent manner. The recognition does not require specific accessory cells, antigen uptake, antigen processing, or MHC class I, class II, or class Ib expression. This subset of T cells plays important roles in mediating innate immunity against a wide variety of infections and displays potent and broad cytotoxic activity against human tumor cells. Because γδT cells express both natural killer receptors such as NKG2D and γδ T cell receptors, they are considered to represent a link between innate and adaptive immunity. ... ...details
The behaviour of the desert locust, Schistocera gregaria, is largely directed by volatile olfactory cues. The relevant odorants are detected by specialized antennal sensory neurons which project their sensory dendrites into hair-like structures, the sensilla. Generally, the responsiveness of the antennal chemosensory cells is determined by specific receptors which may be either odorant receptors (ORs) or variant ionotropic receptors (IRs). Previously, we demonstrated that in locust the co-receptor for ORs (ORco) is only expressed in cells of sensilla basiconica and sensilla trichodea, suggesting that cells in sensilla coeloconica may express different types of chemosensory receptors. In this study, we have identified the genes of S. gregaria which encode homologues of co-receptors for the variant ionotropic receptors, the subtypes IR8a and IR25a. ...details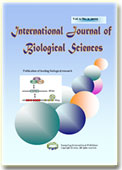 Research Paper
Complete Mitochondrial Genomes of Carcinoscorpius rotundicauda and Tachypleus tridentatus (Xiphosura, Arthropoda) and Implications for Chelicerate Phylogenetic Studies
Su Youn Baek, Eun Hwa Choi, Kuem Hee Jang, Shi Hyun Ryu, Sang Myeon Park, Ho Young Suk, Cheon Young Chang, Ui Wook Hwang
Int. J. Biol. Sci. 2014; 10(5): 479-489. doi:10.7150/ijbs.8739
[Abstract] [Full text] [PDF]
Research Paper
Involvement of PAR-4 in Cannabinoid-Dependent Sensitization of Osteosarcoma Cells to TRAIL-Induced Apoptosis
Antonietta Notaro, Selenia Sabella, Ornella Pellerito, Riccardo Di Fiore, Anna De Blasio, Renza Vento, Giuseppe Calvaruso, Michela Giuliano
Int. J. Biol. Sci. 2014; 10(5): 466-478. doi:10.7150/ijbs.8337
[Abstract] [Full text] [PDF]
Research Paper
Genistein Attenuates Brain Damage induced by Transient Cerebral Ischemia Through Up-regulation of ERK Activity in Ovariectomized Mice
Shiquan Wang, Haidong Wei, Min Cai, Yan Lu, Wugang Hou, Qianzi Yang, Hailong Dong, Lize Xiong
Int. J. Biol. Sci. 2014; 10(4): 457-465. doi:10.7150/ijbs.7562
[Abstract] [Full text] [PDF] [PubMed] [PMC]
Research Paper
Amelioration of Stroke-Induced Neurological Deficiency by Lyophilized Powder of Catapol and Puerarin
Yang Liu, Qiang Xue, Xu Li, Jifen Zhang, Zhifeng Fu, Binbin Feng, Yi Chen, Xiaoyu Xu
Int. J. Biol. Sci. 2014; 10(4): 448-456. doi:10.7150/ijbs.8571
[Abstract] [Full text] [PDF] [PubMed] [PMC]
Research Paper
ELK3 Suppresses Angiogenesis by Inhibiting the Transcriptional Activity of ETS-1 on MT1-MMP
Sun-Hee Heo, Je-Yoel Cho
Int. J. Biol. Sci. 2014; 10(4): 438-447. doi:10.7150/ijbs.8095
[Abstract] [Full text] [PDF] [PubMed] [PMC]
Research Paper
The Blunt Trichoid Sensillum of Female Mosquitoes, Anopheles gambiae: Odorant Binding Protein and Receptor Types
Anna Schultze, Heinz Breer, Jürgen Krieger
Int. J. Biol. Sci. 2014; 10(4): 426-437. doi:10.7150/ijbs.8754
[Abstract] [Full text] [PDF] [PubMed] [PMC]
Research Paper
Cantharidin Exerts Anti-Hepatocellular Carcinoma by Mir-214 Modulating Macrophage Polarization
Sen Lu, Yun Gao, Xinli Huang, Xuehao Wang
Int. J. Biol. Sci. 2014; 10(4): 415-425. doi:10.7150/ijbs.8002
[Abstract] [Full text] [PDF] [PubMed] [PMC]
Research Paper
Andrographolide Suppress Tumor Growth by Inhibiting TLR4/NF-κB Signaling Activation in Insulinoma
Qian-Qian Zhang, Yi Ding, Yan Lei, Cui-Ling Qi, Xiao-Dong He, Tian Lan, Jiang-Chao Li, Ping Gong, Xuesong Yang, Jian-Guo Geng, Li-Jing Wang
Int. J. Biol. Sci. 2014; 10(4): 404-414. doi:10.7150/ijbs.7723
[Abstract] [Full text] [PDF] [PubMed] [PMC]
Research Paper
SRC-1 and Twist1 Expression Positively Correlates with a Poor Prognosis in Human Breast Cancer
Yan Xu, Baoquan Hu, Li Qin, Lianhua Zhao, Qiang Wang, Qingliang Wang, Yixiang Xu, Jun Jiang
Int. J. Biol. Sci. 2014; 10(4): 396-403. doi:10.7150/ijbs.8193
[Abstract] [Full text] [PDF] [PubMed] [PMC]
Research Paper
Reactive Oxygen Species Are Involved in Regulating Hypocontractility of Mesenteric Artery to Norepinephrine in Cirrhotic Rats with Portal Hypertension
Wei Chen, De-Jun Liu, Yan-Miao Huo, Zhi-Yong Wu, Yong-Wei Sun
Int. J. Biol. Sci. 2014; 10(4): 386-395. doi:10.7150/ijbs.8081
[Abstract] [Full text] [PDF] [PubMed] [PMC]
Research Paper
CNN3 Is Regulated by microRNA-1 during Muscle Development in Pigs
Zhonglin Tang, Ruyi Liang, Shuanping Zhao, Ruiqi Wang, Ruihua Huang, Kui Li
Int. J. Biol. Sci. 2014; 10(4): 377-385. doi:10.7150/ijbs.8015
[Abstract] [Full text] [PDF] [PubMed] [PMC]
Research Paper
Systemic Blockage of Nitric Oxide Synthase by L-NAME Increases Left Ventricular Systolic Pressure, Which Is Not Augmented Further by Intralipid®
Il-Woo Shin, Young-Sool Hah, Cheol Kim, Jungchul Park, Heewon Shin, Kyeong-Eon Park, Seong-Ho Ok, Heon-Keun Lee, Young-Kyun Chung, Haeng Seon Shim, Dong Hoon Lim, Ju-Tae Sohn
Int. J. Biol. Sci. 2014; 10(4): 367-376. doi:10.7150/ijbs.8048
[Abstract] [Full text] [PDF] [PubMed] [PMC]
Research Paper
Adenovirus-Mediated Prothymosin α Gene Transfer Inhibits the Development of Atherosclerosis in Apoe-Deficient Mice
Meng-Ya Chang, Yu-Shan Yang, Mei-Ling Tsai, Che-Hsin Lee, Chih-Jui Chang, Ai-Li Shiau, Chao-Liang Wu
Int. J. Biol. Sci. 2014; 10(4): 358-366. doi:10.7150/ijbs.8634
[Abstract] [Full text] [PDF] [PubMed] [PMC]
Research Paper
Neuroprotective Effects of Tetramethylpyrazine against Dopaminergic Neuron Injury in a Rat Model of Parkinson's Disease Induced by MPTP
Chen Lu, Jin Zhang, Xiaopeng Shi, Shan Miao, Linlin Bi, Song Zhang, Qian Yang, Xuanxuan Zhou, Meng Zhang, Yanhua Xie, Qing Miao, Siwang Wang
Int. J. Biol. Sci. 2014; 10(4): 350-357. doi:10.7150/ijbs.8366
[Abstract] [Full text] [PDF] [PubMed] [PMC]
Research Paper
Irisin Is Elevated in Skeletal Muscle and Serum of Mice Immediately after Acute Exercise
Julia Brenmoehl, Elke Albrecht, Katrin Komolka, Lisa Schering, Martina Langhammer, Andreas Hoeflich, Steffen Maak
Int. J. Biol. Sci. 2014; 10(3): 338-349. doi:10.7150/ijbs.7972
[Abstract] [Full text] [PDF] [PubMed] [PMC]
Research Paper
Discovery of Candidate Genes for Muscle Traits Based on GWAS Supported by eQTL-analysis
Siriluck Ponsuksili, Eduard Murani, Nares Trakooljul, Manfred Schwerin, Klaus Wimmers
Int. J. Biol. Sci. 2014; 10(3): 327-337. doi:10.7150/ijbs.8134
[Abstract] [Full text] [PDF] [PubMed] [PMC]