Global reach, higher impact
International Journal of Medical Sciences
Journal of Bone and Joint Infection (JBJI)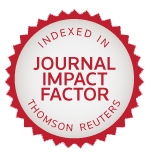 Int J Biol Sci 2007; 3(4):251-256. doi:10.7150/ijbs.3.251
Research Paper
A polychromator-based microspectrophotometer
Istituto di Biofisica via Moruzzi 1 56124 Pisa, Italy

A microspectrophotometer is a digital microscope used to measure absorption and fluorescence spectra. In this paper we describe a polychromator-based microspectrophotometer that performs in vivo absorption or emission measurements at the same time on different subcellular compartments such as photoreceptive and photosynthetic structures of algal cells. In this system, a flat field imaging concave grating polychromator is connected to the slit-shaped exit pupil of a light-guide probe mounted onto a microscope equipped with an epifluorescence module.
The subcellular components, on which the spectra will be measured, are placed in the microscope field and finely adjusted. The outer bundle of the probe is used for centering the objects, while the central bundle of the probe, containing 19 light guides, is used for acquiring either transmitted or emitted light (i.e. fluorescence). The light transmitted or emitted by the subcellular components is collected by the probe mounted in the back focal plane of the ocular. The exit pupil of this probe, connected to a flat field imaging concave grating polychromator, produces a dispersion image that in turn is focused onto a digital slow scan cooled CCD camera. Absorption and emission spectra of algal subcellular compartments are presented
Keywords: Microspectroscopy, algae, chromophores, absorption spectra, emission spectra.
How to cite this article:
Evangelista V, Evangelisti M, Barsanti L, Frassanito AM, Passarelli V, Gualtieri P. A polychromator-based microspectrophotometer.
Int J Biol Sci
2007; 3(4):251-256. doi:10.7150/ijbs.3.251. Available from
http://www.ijbs.com/v03p0251.htm