Global reach, higher impact
International Journal of Medical Sciences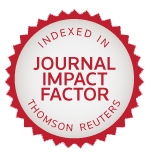 Int J Biol Sci 2007; 3(7):486-492. doi:10.7150/ijbs.3.486
Short Research Communication
Concerted Transcriptional Regulation by BRCA1 and COBRA1 in Breast Cancer Cells
1. Department of Biochemistry and Molecular Genetics, University of Virginia, Charlottesville, VA 22908, USA
2. Public Health Sciences Administration, School of Medicine, University of Virginia, Charlottesville, VA 22908, USA
3. Department of Molecular Medicine/Institute of Biotechnology, University of Texas Health Science Center at San Antonio, San Antonio, TX 78245, USA

Cofactor of BRCA1 (COBRA1) was first identified as a protein that binds to the breast cancer susceptibility gene product BRCA1. COBRA1 modulates estrogen-dependent and independent transcription and suppresses the growth of breast cancer cells. Its expression is significantly reduced in metastatic and recurrent breast cancer, pointing to a tumor suppressor function in breast cancer development. In light of these initial implications of COBRA1 in human breast cancer, the current investigation sought to obtain more direct functional evidence that links COBRA1 with BRCA1 in transcriptional regulation in breast cancer cells. Small hairpin RNA (shRNA)-mediated gene knockdown and gene expression microarray were used to study the impact of COBRA1 and BRCA1 on global transcription in the same breast cancer cell background. The gene expression profiling study in tissue culture cells uncovers a significant overlap of COBRA1- and BRCA1-regulated genes, many of which have been previously implicated in breast cancer progression. The data shown herein support the notion that COBRA1 and BRCA1 may engage in common gene regulatory pathways to suppress breast cancer progression.
Keywords: COBRA1, BRCA1, transcription regulation, shRNA knockdown, breast cancer.
How to cite this article:
Aiyar SE, Cho H, Lee J, Li R. Concerted Transcriptional Regulation by BRCA1 and COBRA1 in Breast Cancer Cells.
Int J Biol Sci
2007; 3(7):486-492. doi:10.7150/ijbs.3.486. Available from
http://www.ijbs.com/v03p0486.htm