Global reach, higher impact
International Journal of Medical Sciences
Journal of Bone and Joint Infection (JBJI)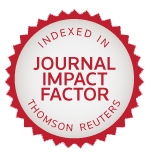 Int J Biol Sci 2009; 5(6):570-577. doi:10.7150/ijbs.5.570
Research Paper
Disruption of the BMEI0066 gene attenuates the virulence of Brucella melitensis and decreases its stress tolerance
College of Veterinary Medicine, China Agricultural University, Beijing 100193, P.R. China.

Brucella melitensis is a facultative intracellular pathogen. An operon composed of BMEI0066, which encodes a two-component response regulator CenR, and BMEI0067, which encodes a cAMP-dependent protein kinase regulatory subunit, has been predicted to exist in many bacterial species. However, little is known about the function of this operon. In order to characterize this operon and assess its role in virulence, we constructed a marked deletion mutant of BMEI0066. The mutant was less able to withstand hyperosmotic conditions than wild-type (16M), but showed no significant difference with 16M when challenged by H2O2. The mutant also showed increased sensitivity to elevated temperature (42°C) and a reduced survival ratio under acidic conditions compared with 16M. The mutant failed to replicate in cultured murine macrophages and was rapidly cleared from the spleens of experimentally infected BALB/c mice. These findings suggest that these operon products make an important contribution to pathogenesis in mice, probably by allowing B. melitensis to adapt to the harsh environment encountered within host macrophages.
Keywords: Brucella, two-component regulatory system, BMEI0066, virulence, CenR, stress.
How to cite this article:
Zhang X, Ren J, Li N, Liu W, Wu Q. Disruption of the BMEI0066 gene attenuates the virulence of
Brucella melitensis
and decreases its stress tolerance.
Int J Biol Sci
2009; 5(6):570-577. doi:10.7150/ijbs.5.570. Available from
http://www.ijbs.com/v05p0570.htm