Global reach, higher impact
International Journal of Medical Sciences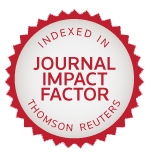 Int J Biol Sci 2010; 6(5):428-442. doi:10.7150/ijbs.6.428
Research Paper
Increased invasiveness and aggressiveness in breast epithelia with cytoplasmic p63 expression
1. Institute of Medicine, Chung Shan Medical University, Taiwan
2. Department of Obstetrics and Gynecology, Changhua Christian Hospital, Taiwan;
3. Department of Gene and Protein Biomarkers, GenProMarkers, Inc. Rockville, MD, USA;
4. Armed Forces Institute of Pathology and American Registry of Pathology, Washington DC, USA

Our previous studies revealed that pregnancy associated breast cancer (PABC) had significantly reduced nuclear p63 expression in myoepithelia, while intense cytoplasmic p63 expression in associated epithelia. Our current study assessed these epithelia using immunohistochemistry with a panel of aggressiveness and invasiveness related markers and comparative genomic hybridization (array-CGH) with over 30,000 DNA probes. These epithelia showed several unique alterations, including (1) immunohistochemical and morphological resemblance to invasive cancer, (2) significant gain in copy numbers of DNA coding genes for morphogenesis, angiogenesis, and metastasis, and (3) significant loss in copy numbers of DNA coding genes for tumor suppressors, cell adhesion, and macromolecular complex assembly or intra-cellular trafficking. Detected array-CGH alterations correlated well with in vivo expression of a number of corresponding proteins tested. These findings suggest that aberrant sub-cellular localization of p63 expression in normal or hyperplastic appearing epithelial cells may significant contribute to increased invasiveness and aggressiveness of these cells.
Keywords: breast epithelia, pregnancy associated breast cancer, p63 expression, invasiveness and aggressiveness.
How to cite this article:
Hsiao YH, Su YA, Tsai HD, Mason JT, Chou MC, Man Yg. Increased invasiveness and aggressiveness in breast epithelia with cytoplasmic p63 expression.
Int J Biol Sci
2010; 6(5):428-442. doi:10.7150/ijbs.6.428. Available from
http://www.ijbs.com/v06p0428.htm