Global reach, higher impact
International Journal of Medical Sciences
Journal of Bone and Joint Infection (JBJI)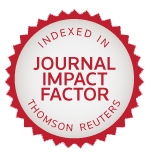 Int J Biol Sci 2013; 9(9):960-965. doi:10.7150/ijbs.6739
Short Research Communication
Hoxc Gene Collinear Expression and Epigenetic Modifications Established during Embryogenesis Are Maintained until after Birth
Department of Anatomy, Embryology Laboratory, Brain Korea 21 project for Medical Science, Yonsei University College of Medicine, Seoul 120-752, Korea.

The Hox genes, which are organized into clusters on different chromosomes, are key regulators of embryonic anterior-posterior (A-P) body pattern formation and are expressed at specific times and in specific positions in developing vertebrate embryos. Previously, we have shown that histone methylation patterns are closely correlated with collinear Hox gene expression patterns along the A-P axis of E14.5 mouse embryos. Since histone modification is thought to play a crucial mechanistic role in the highly coordinated pattern of collinear Hox gene expression, we examined the maintenance of the spatial collinear expression pattern of Hoxc genes and the corresponding histone modifications during embryogenesis and in early postnatal mice. Hox expression patterns and histone modifications were analyzed by semi-quantitative RT-PCR and chromatin immunoprecipitation (ChIP)-PCR analyses, respectively. The spatiotemporal expression patterns of Hoxc genes in a cluster were maintained until the early postnatal stage (from E8.5 through P5). Examination of histone modifications in E14.5 and P5 tissues revealed that level of H3K27me3 is only a weak correlation with collinear Hoxc gene expression in the trunk regions although diminished in general, however the enrichment of H3K4me3 is strongly correlated with the gene expression in both stages. In summary, the initial spatiotemporal collinear expression pattern of Hoxc genes and epigenetic modifications are maintained after birth, likely contributing to the establishment of the gene expression code for position in the anatomic body axis throughout the entire life of the organism.
Keywords: Hoxc cluster genes, collinear expression: anterior-posterior body axis, mouse embryogenesis, histone modification.
How to cite this article:
Min H, Lee JY, Kim MH.
Hoxc
Gene Collinear Expression and Epigenetic Modifications Established during Embryogenesis Are Maintained until after Birth.
Int J Biol Sci
2013; 9(9):960-965. doi:10.7150/ijbs.6739. Available from
http://www.ijbs.com/v09p0960.htm