Global reach, higher impact
International Journal of Medical Sciences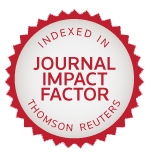 Int J Biol Sci 2013; 9(10):1057-1069. doi:10.7150/ijbs.7502
Review
The Vascular Endothelium and Human Diseases
1. NPO-International Laboratory of Biochemistry,1-166, Uchide, Nakagawa-ku, Nagoya 454-0926, Japan;
2. Department of Pharmacology and Center of Lung and Vascular Biology, University of Illinois College of Medicine, Chicago, Illinois, United States of America;
3. Department of Medical Biochemistry, Dr. ALM PG Institute of Basic Medical Sciences, University of Madras, Taramani Campus, Chennai, India 600 113;
4. Department of Pharmacology,Yong Loo Lin School of Medicine,National University Health System, 10 Medical Drive, MD11, #05-09, Clinical Research Centre, Singapore 117597.

Alterations of endothelial cells and the vasculature play a central role in the pathogenesis of a broad spectrum of the most dreadful of human diseases, as endothelial cells have the key function of participating in the maintenance of patent and functional capillaries. The endothelium is directly involved in peripheral vascular disease, stroke, heart disease, diabetes, insulin resistance, chronic kidney failure, tumor growth, metastasis, venous thrombosis, and severe viral infectious diseases. Dysfunction of the vascular endothelium is thus a hallmark of human diseases. In this review the main endothelial abnormalities found in various human diseases such as cancer, diabetes mellitus, atherosclerosis, and viral infections are addressed.
Keywords: Endothelium, Endothelial dysfunction, Atherosclerosis, Stroke, Cancer.
How to cite this article:
Rajendran P, Rengarajan T, Thangavel J, Nishigaki Y, Sakthisekaran D, Sethi G, Nishigaki I. The Vascular Endothelium and Human Diseases.
Int J Biol Sci
2013; 9(10):1057-1069. doi:10.7150/ijbs.7502. Available from
http://www.ijbs.com/v09p1057.htm