Global reach, higher impact
International Journal of Medical Sciences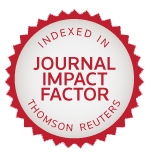 Int J Biol Sci 2017; 13(1):65-75. doi:10.7150/ijbs.18045
Research Paper
Forsythoside A exerts antipyretic effect on yeast-induced pyrexia mice via inhibiting transient receptor potential vanilloid 1 function
Institute of Chinese Materia Medica, China Academy of Chinese Medical Sciences, Beijing, China.
* These authors as first authors contributed equally to this article.

Transient receptor potential vanilloid 1 (TRPV1) is a non-selective cation channel gated by noxious heat, playing major roles in thermoregulation. Forsythoside A (FT-A) is the most abundant phenylethanoid glycosides in Fructus Forsythiae, which has been prescribed as a medicinal herb for treating fever in China for a long history. However, how FT-A affects pyrexia and what is the underlying molecular mechanism remain largely unknown. Here we found that FT-A exerted apparent antipyretic effect through decreasing the levels of prostaglandin E2 (PGE2) and interleukin 8 (IL-8) in a dose-dependent fashion on the yeast induced pyrexia mice. Interestingly, FT-A significantly downregulated TRPV1 expression in the hypothalamus and dorsal root ganglion (DRG) of the yeast induced pyrexia mice. Moreover, FT-A inhibited IL-8 and PGE2 secretions, and calcium influx in the HEK 293T-TRPV1 cells after stimulated with capsaicin, the specific TRPV1 agonist. Further investigation of the molecular mechanisms revealed that FT-A treatment rapidly inhibited phosphorylation of extracellular signal-regulated kinase (ERK), Jun N-terminal kinase (JNK) and p38 in both yeast induced pyrexia mice and HEK 293T-TRPV1 cells. These results suggest that FT-A may serve as a potential antipyretic agent and the therapeutic action of Fructus Forsythiae on pyretic related disease is, in part, due to the FT-A activities.
Keywords: Transient receptor potential, Fever, Forsythoside A, Mitogen-activated protein kinases.
How to cite this article:
Liu C, Su H, Wan H, Qin Q, Wu X, Kong X, Lin N. Forsythoside A exerts antipyretic effect on yeast-induced pyrexia mice via inhibiting transient receptor potential vanilloid 1 function.
Int J Biol Sci
2017; 13(1):65-75. doi:10.7150/ijbs.18045. Available from
http://www.ijbs.com/v13p0065.htm