Int J Biol Sci 2018; 14(7):760-774. doi:10.7150/ijbs.25052 This issue
Research Paper
miR-487b-3p Suppresses the Proliferation and Differentiation of Myoblasts by Targeting IRS1 in Skeletal Muscle Myogenesis
1. Institute of Cellular and Molecular Biology, Jiangsu Normal University, Xuzhou, Jiangsu, 221116, China
2. Key Laboratory of Adaptation and Evolution of Plateau Biota, Northwest Institute of Plateau Biology, Chinese Academy of Sciences, Xining, Qinghai, 810001, China

This is an open access article distributed under the terms of the Creative Commons Attribution (CC BY-NC) license (https://creativecommons.org/licenses/by-nc/4.0/). See http://ivyspring.com/terms for full terms and conditions.
Citation:
Wang J, Tan J, Qi Q, Yang L, Wang Y, Zhang C, Hu L, Chen H, Fang X. miR-487b-3p Suppresses the Proliferation and Differentiation of Myoblasts by Targeting IRS1 in Skeletal Muscle Myogenesis.
Int J Biol Sci
2018; 14(7):760-774. doi:10.7150/ijbs.25052. Available from
https://www.ijbs.com/v14p0760.htm
Abstract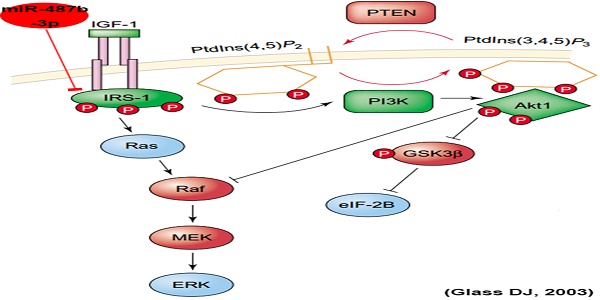 MicroRNAs are endogenous, small non-coding RNAs that can play critical gene-regulatory roles during skeletal muscle development and are highly conserved. miR-487b-3p is expressed in muscle, and the detailed mechanism by which it regulates myoblast proliferation and differentiation has not been explored. Here, we found that miR-487b-3p expression was significantly higher in goat muscle tissues than in other tissues and was higher in fetal goat muscle tissues than in mature goat tissues, suggesting that miR-487b-3p has an important effect on skeletal muscle myogenesis. Functional studies showed that miR-487b-3p overexpression significantly suppressed C2C12 myoblast proliferation and differentiation, which was accompanied by the down-regulation of functional genes related to proliferation (MyoD, Pax7 and PCNA) and differentiation (Myf5, MyoG and Mef2c), whereas the inhibition of miR-487b-3p accelerated C2C12 myoblast proliferation and differentiation and was accompanied by the up-regulation of functional genes. Using Target-Scan and David, we found that miR-487b-3p targeted the 3'-UTR of IRS1, an essential regulator in the PI3K/Akt and MAPK/Erk pathways. We then confirmed the targeting of IRS1 by miR-487b-3p using dual-luciferase assays, RT-qPCR and western blotting. Furthermore, IRS1 silencing markedly inhibited proliferation and differentiation in cultured C2C12 myoblasts, confirming the important role of IRS1 in myogenesis. These results reveal an IRS1-mediated regulatory link between miR-487b-3p and the PI3K/Akt and MAPK/Erk pathways during skeletal muscle myogenesis.
Keywords: miR-487b-3p, IRS1, myoblast proliferation, myoblast differentiation, myogenesis