Int J Biol Sci 2021; 17(5):1191-1202. doi:10.7150/ijbs.57871 This issue
Research Paper
Characteristics of the PI3K/AKT and MAPK/ERK pathways involved in the maintenance of self-renewal in lung cancer stem-like cells
1. Department of Laboratory Medicine, the Affiliated Hospital of Southwest Medical University, Sichuan, China.
2. Institute of Life Sciences, Chongqing Medical University, Chongqing, China.
3. College of Biomedical Engineering, State Key Laboratory of Ultrasound Engineering in Medicine, Chongqing Medical University, Chongqing, China.
* These authors contributed equally.

This is an open access article distributed under the terms of the Creative Commons Attribution License (https://creativecommons.org/licenses/by/4.0/). See http://ivyspring.com/terms for full terms and conditions.
Citation:
Li J, Wang J, Xie D, Pei Q, Wan X, Xing HR, Ye T. Characteristics of the PI3K/AKT and MAPK/ERK pathways involved in the maintenance of self-renewal in lung cancer stem-like cells.
Int J Biol Sci
2021; 17(5):1191-1202. doi:10.7150/ijbs.57871. Available from
https://www.ijbs.com/v17p1191.htm
Abstract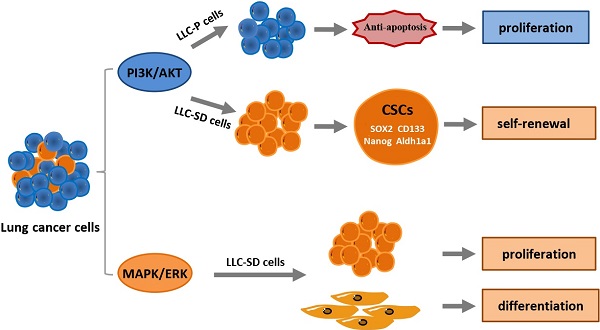 Lung cancer is the leading cause of cancer-related mortality worldwide due to its early asymptomatic and late metastasis. While cancer stem cells (CSCs) may play a vital role in oncogenesis and development of lung cancer, mechanisms underlying CSCs self‐renewal remain less clear. In the present study, we constructed a clinically relevant CSCs enrichment recognition model and evaluated the potential functions of phosphatidylinositol 3-kinase (PI3K)/AKT pathway (PI3K/AKT) and mitogen-activated protein kinases/extracellular signal-regulated kinase (MAPK/ERK) pathways in lung cancer via bioinformatic analysis, providing the basis for in depth mechanistic inquisition. Experimentally, we confirmed that PI3K/AKT pathway predominantly promotes proliferation through anti-apoptosis in lung adenocarcinoma cells, while MAPK/ERK pathway has an overwhelming superiority in regulating the proliferation in lung CSCs. Further, utilizing stemness score model, LLC-Symmetric Division (LLC-SD) cells and mouse orthotopic lung transplantation model, we elucidated an intricate cross-talk between the oncogenic pathway and the stem cell reprograming pathway that impact stem cell characteristics as well as cancer biology features of lung CSCs both in vitro and in vivo. In summary, our findings uncovered a new insight that PI3K/AKT and MAPK/ERK pathways as oncogenic signaling pathway and/or stem cell signaling pathway act distinctively and synergistically to regulate lung CSCs self-renewal.
Keywords: lung cancer stem-like cells, PI3K/AKT pathway, MAPK/ERK pathway, characteristics, self-renewal.