Int J Biol Sci 2021; 17(5):1234-1249. doi:10.7150/ijbs.56247 This issue
Research Paper
Dickkopf-1 promotes Vascular Smooth Muscle Cell proliferation and migration through upregulating UHRF1 during Cyclic Stretch application
The Key Laboratory of Cardiovascular Remodeling and Function Research, Chinese Ministry of Education, Chinese National Health Commission and Chinese Academy of Medical Sciences, The State and Shandong Province Joint Key Laboratory of Translational Cardiovascular Medicine, Qilu Hospital of Shandong University,107 Wenhuaxi Road, 250012 Jinan, China.

This is an open access article distributed under the terms of the Creative Commons Attribution License (https://creativecommons.org/licenses/by/4.0/). See http://ivyspring.com/terms for full terms and conditions.
Citation:
Zheng Tf, Liu Xl, Li X, Wang Qq, Zhao Yc, Li X, Li Mm, Zhang Y, Zhang M, Zhang Wc, Zhang C, Zhang Y, Zhang M. Dickkopf-1 promotes Vascular Smooth Muscle Cell proliferation and migration through upregulating UHRF1 during Cyclic Stretch application.
Int J Biol Sci
2021; 17(5):1234-1249. doi:10.7150/ijbs.56247. Available from
https://www.ijbs.com/v17p1234.htm
Abstract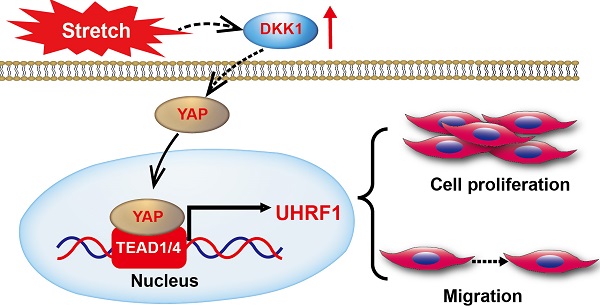 Dickkopf-1 (DKK1) was recently shown to play an important role in cardiovascular disease. The aim of this work was to assess the role of DKK1 in the regulation of smooth muscle cell function by mechanical stretch and the mechanisms underlying this process.
Methods: Wild-type C57BL/6J mice were subjected to sham or abdominal aortic constriction (AAC) surgery. The expression level of DKK1 was examined by immunohistochemical staining and Western blotting. Analyses of DKK1 function in vascular smooth muscle cell (VSMC) proliferation and migration were performed. Transcriptome sequencing analysis was performed to identify the differentially expressed genes and pathways regulated by DKK1. Smooth muscle-specific Dkk1 knockout mice were used to confirm the function of DKK1 in vivo. Chromatin immunoprecipitation (ChIP) was used to confirm DNA-protein interactions. Promoter luciferase analysis was used to detect transcription factor activity.
Results: We found that AAC significantly increased DKK1 protein levels in the thoracic aorta and coronary artery in vivo. In vitro, high-level stretch (18%) induced the expression of DKK1 in VSMCs. Knocking down DKK1 inhibited VSMC proliferation and migration under high-level stretch (18%). We identified ubiquitin-like containing PHD and RING finger domains 1 (UHRF1) as a target gene of DKK1. Knockdown of UHRF1 with small interfering RNAs partially reversed the regulatory effect of recombinant DKK1 on VSMCs. Specific deletion of DKK1 in VSMCs was sufficient to attenuate the AAC-induced upregulation of UHRF1, thickening of arterial media and increase in VSMC proliferation. Furthermore, we found that DKK1 regulated UHRF1 expression through the YAP-TEAD pathway. TEAD1 and TEAD4 bound directly to the promoter of UHRF1, and blocking the YAP-TEAD interaction inhibited UHRF1 upregulation due to DKK1.
Conclusions: This study reveals that DKK1 mediates the mechanical stretch regulation of smooth muscle cell function by modulating UHRF1 expression through the YAP-TEAD pathway.
Keywords: dickkopf-1, smooth muscle cell, mechanical stretch, UHRF1