Int J Biol Sci 2021; 17(5):1250-1262. doi:10.7150/ijbs.54401 This issue
Research Paper
Wild-type IDH1 inhibits the tumor growth through degrading HIF-α in renal cell carcinoma
1. Department of Urology, Zhongnan Hospital of Wuhan University, Wuhan 430071, China.
2. Department of Cardiovascular Surgery, Zhongnan Hospital of Wuhan University, Wuhan 430071, China.
3. Department of Nephrology, Zhongnan Hospital of Wuhan University, Wuhan 430071, China.
#These authors contributed equally to this work.

This is an open access article distributed under the terms of the Creative Commons Attribution License (https://creativecommons.org/licenses/by/4.0/). See http://ivyspring.com/terms for full terms and conditions.
Citation:
Chen S, Wang Y, Xiong Y, Peng T, Lu M, Zhang L, Guo Z. Wild-type IDH1 inhibits the tumor growth through degrading HIF-α in renal cell carcinoma.
Int J Biol Sci
2021; 17(5):1250-1262. doi:10.7150/ijbs.54401. Available from
https://www.ijbs.com/v17p1250.htm
Abstract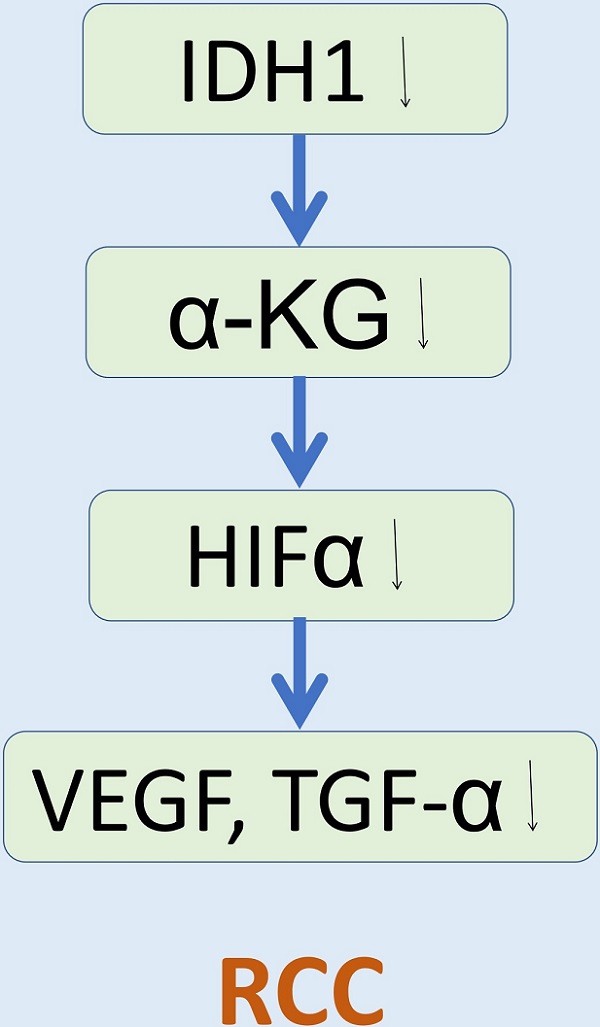 The purpose of our study was to explore the effect and intrinsic mechanism of wild-type IDH1 and its substrate α-KG on renal cell carcinoma (RCC). IDH1 was observed lower expression in RCC cell lines. Phenotype experiment was carried out in the wild-type IDH1 and mutant IDH1R132H plasmid treated cell line. The results showed that the wild-type IDH1 could significantly inhibit the proliferation, migration and promote the apoptosis of RCC cell lines, which were consistent with the IDH1's substrate α-KG. The mutant IDH1R132H was found to lose this biological function of IDH1. Moreover, we verified the proliferation inhibition of IDH1 in vivo. In addition, we verified the correlation between IDH1 and hypoxia signal-related proteins in vitro and in vivo, specifically, IDH1 overexpression could significantly reduce the expression of HIF-1α and HIF-2α proteins and its downstream proteins (VEGF, TGF-α). Furthermore, we preliminarily verified the possibility of α-KG in the RCC's treatment by injecting α-KG into the xenograft model. α-KG significantly reduced tumor size and weight in tumor-bearing mice. This study provided a new therapeutic target and small molecule for the study of the treatment and mechanism of RCC.
Keywords: IDH1, renal cell carcinoma, HIF-1α, HIF-2α, α-KG