Int J Biol Sci 2021; 17(5):1263-1276. doi:10.7150/ijbs.56357 This issue
Research Paper
Targeting HLA-F suppresses the proliferation of glioma cells via a reduction in hexokinase 2-dependent glycolysis
1. Jiangsu Province Key Laboratory of Immunity and Metabolism, Xuzhou Medical University, Xuzhou, China.
2. Department of Pathogenic Biology and Immunology, Xuzhou Medical University, Xuzhou, China.
3. China University of Mining and Technology, Xuzhou, China.
4. The Department of Hematology, Fukushima Medical University, Fukushima, Japan.
*These authors contributed equally to this work.

This is an open access article distributed under the terms of the Creative Commons Attribution License (https://creativecommons.org/licenses/by/4.0/). See http://ivyspring.com/terms for full terms and conditions.
Citation:
Chen X, Sun N, Li R, Sang X, Li X, Zhao J, Han J, Yang J, Ikezoe T. Targeting HLA-F suppresses the proliferation of glioma cells via a reduction in hexokinase 2-dependent glycolysis.
Int J Biol Sci
2021; 17(5):1263-1276. doi:10.7150/ijbs.56357. Available from
https://www.ijbs.com/v17p1263.htm
Abstract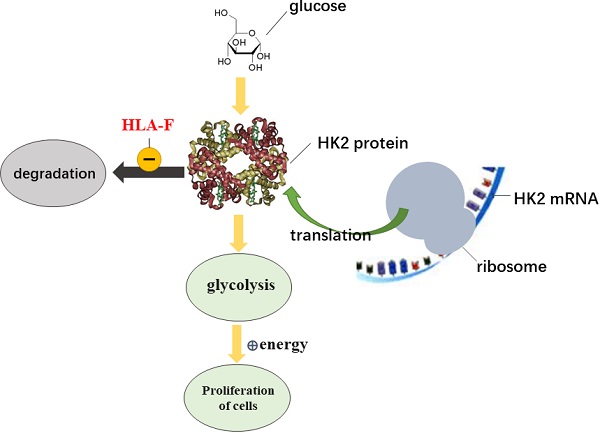 HLA-F, a nonclassical HLA class I molecule, is required for regulating immune tolerance. In recent years, HLA-F has been found to play a role in a variety of cancers, including glioma (GM). Additionally, high expression of HLA-F predicts the poor overall survival of individuals with GM. However, the functions of HLA-F in GM remain to be further elucidated. In this study, we found that HLA-F expression was elevated in GM tissues. High levels of HLA-F resulted in a high cell proliferation index and predicted GM recurrence. Forced expression of HLA-F promoted the growth of murine C8-D1A cells transplanted in immunodeficient Rag2-/- mice. In contrast, silencing HLA-F inhibited cell growth in vitro. Furthermore, targeting HLA-F with an anti-HLA-F antibody suppressed the growth of C8-D1A cells stably expressing HLA-F transplanted in immunodeficient Rag2-/- mice. In further experiments, we found that forced expression of HLA-F contributed to the aerobic glycolysis phenotype in C8-D1A cells along with an increase in HK2 protein stabilization. Conversely, silencing HK2 by shRNA reduced HLA-F-mediated glycolysis and cell proliferation. Our data indicated that HLA-F promoted cell proliferation via HK2-dependent glycolysis. HLA-F could be a potential therapeutic target for the treatment of GM.
Keywords: HLA-F, glycolysis, hexokinase 2, glioma