Int J Biol Sci 2021; 17(5):1339-1352. doi:10.7150/ijbs.54302 This issue
Research Paper
Peripheral Macrophage-derived Exosomes promote repair after Spinal Cord Injury by inducing Local Anti-inflammatory type Microglial Polarization via Increasing Autophagy
1. Department of Orthopedic Surgery, Shanghai Jiao Tong University Affiliated No. 6 People's Hospital, 600 Yishan Road, Shanghai 200233, China.
2. Department of Orthopedic Surgery,Rizhao Hospital of Traditional Chinese Medicine.
#These authors contributed equally to this work.

This is an open access article distributed under the terms of the Creative Commons Attribution License (https://creativecommons.org/licenses/by/4.0/). See http://ivyspring.com/terms for full terms and conditions.
Citation:
Zhang B, Lin F, Dong J, Liu J, Ding Z, Xu J. Peripheral Macrophage-derived Exosomes promote repair after Spinal Cord Injury by inducing Local Anti-inflammatory type Microglial Polarization via Increasing Autophagy.
Int J Biol Sci
2021; 17(5):1339-1352. doi:10.7150/ijbs.54302. Available from
https://www.ijbs.com/v17p1339.htm
Abstract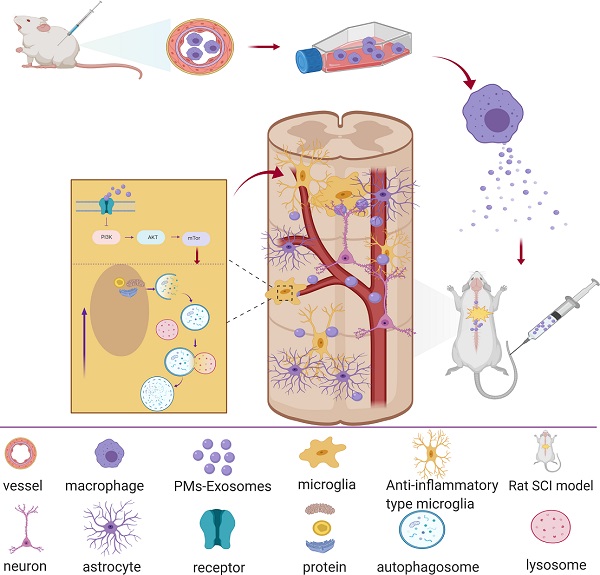 Treatment for spinal cord injury (SCI) remains a challenge worldwide, and inflammation is a major cause of secondary injury after SCI. Peripheral macrophages (PMs) have been verified as a key factor that exert anti-inflammatory effects after SCI, but the mechanism is unidentified. As local macrophages, microglia also exert significant effects after SCI, especially polarization. Exosomes show source cell-like biological functions to target cells and have been the subject of much research in recent years. Thus, we hypothesized the PM-derived exosomes (PM-Exos) play an important role in signal transmission with local microglia and can be used therapeutic agents for SCI in a series of in vivo and in vitro studies. For the in vivo experiment, three groups of Sprague-Dawley (SD) rats subjected to spinal cord contusion injury were injected with 200 µg/ml PM-Exos, 20 µg/ml PM-Exos or PBS via the tail vein. Recovery of the rats and of spinal cord function were observed. In vitro, we investigated the potential anti-inflammatory mechanism of PM-Exos and evaluated microglial autophagy, anti-inflammatory type microglia polarization and the upstream signaling pathway. The results showed that spinal cord function and recovery were better in the PM-Exo groups than the control group. In the in vitro study, microglial autophagy levels and the expression of anti-inflammatory type microglia were higher in the experimental groups than the control group. Moreover, the expression of proteins related to the PI3K/AKT/mTOR autophagic signaling pathway was suppressed in the PM-Exo groups. PM-Exos have a beneficial effect in SCI, and activation of microglial autophagy via inhibition of the PI3K/AKT/mTOR signaling pathway, enhancing the polarization of anti-inflammatory type microglia, that may play a major role in the anti-inflammatory process.
Keywords: spinal cord injury, peripheral macrophage, exosomes, microglia polarization, autophagy