Int J Biol Sci 2021; 17(5):1353-1360. doi:10.7150/ijbs.57962 This issue
Research Paper
IKKe in osteoclast inhibits the progression of methylprednisolone-induced osteonecrosis
1. Department of Orthopaedic Surgery, Shanghai Jiao Tong University Affiliated Sixth People's Hospital, Shanghai 200233, China.
2. Department of Emergency, the First Affiliated Hospital of Zhengzhou University, Zhengzhou, 450052, Henan, China.
3. Department of Orthopaedic Surgery, Xiangshan First People's Hospital, Ningbo 315700, Zhejiang, China.
* These authors contributed equally to this work.

This is an open access article distributed under the terms of the Creative Commons Attribution License (https://creativecommons.org/licenses/by/4.0/). See http://ivyspring.com/terms for full terms and conditions.
Citation:
Liu Y, Shan H, Zong Y, Lin Y, Xia W, Wang N, Zhou L, Gao Y, Ma X, Jiang C, Yu X. IKKe in osteoclast inhibits the progression of methylprednisolone-induced osteonecrosis.
Int J Biol Sci
2021; 17(5):1353-1360. doi:10.7150/ijbs.57962. Available from
https://www.ijbs.com/v17p1353.htm
Abstract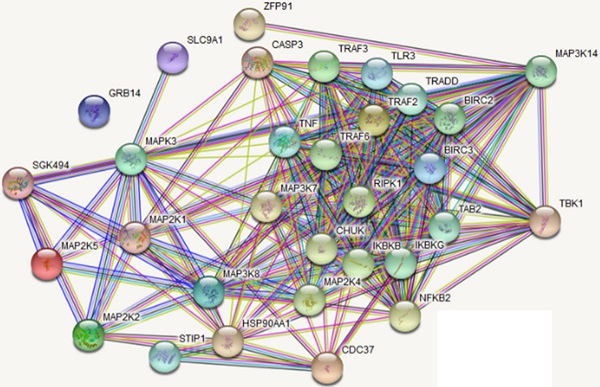 Previous studies have described that NF-κB signaling mediated by NFκB-inducing kinase (NIK) plays a critical role of the differentiation of osteoclasts. We aim to explore the role of IKKe in methylprednisolone -induced osteonecrosis of the femoral head (ONFH). Methylprednisolone-induced ONFH mice model was successfully established, and subjected to micro computed tomography to detect the femoral head image of the mice. Bone marrow cells from experimental mice were collected and cultured. qPCR and immunoblot were performed to examine the possible signal pathways of IKKe involvement, and osteoclast-related gene expressions in IKKe+/+ and IKKe-/- cells in vitro and in vivo were examined. It was found that the levels of IKKe decreased in ONFH patients, and IKKe interacted with NIK in the NF-κB signal pathway to suppress osteoclasts via inhibiting the transcription of NIK. Furthermore, IKKe knockout promoted the osteoclastogenesis in mice model. Finally, IKKe knockout suppressed methylprednisolone-induced ONFH and pro-inflammatory responses in mice model. Our findings show a mechanism of IKKe inhibition of the progression of methylprednisolone-induced ONFH via the NIK/NF-κB pathway.
Keywords: ONFH, IKKe, non-canonical NF-κB pathway, osteoclasts.