Int J Biol Sci 2021; 17(5):1413-1427. doi:10.7150/ijbs.58876 This issue
Research Paper
Prognostic value of LRRC4C in Colon and Gastric Cancers correlates with Tumour Microenvironment Immunity
Department of Gastrointestinal Surgery, The Third Affiliated Hospital of Sun Yat-sen University, Tianhe Road 600, Guangzhou 510630, China.

This is an open access article distributed under the terms of the Creative Commons Attribution License (https://creativecommons.org/licenses/by/4.0/). See http://ivyspring.com/terms for full terms and conditions.
Citation:
Yang X, Lei P, Huang L, Tang X, Wei B, Wei H. Prognostic value of LRRC4C in Colon and Gastric Cancers correlates with Tumour Microenvironment Immunity.
Int J Biol Sci
2021; 17(5):1413-1427. doi:10.7150/ijbs.58876. Available from
https://www.ijbs.com/v17p1413.htm
Abstract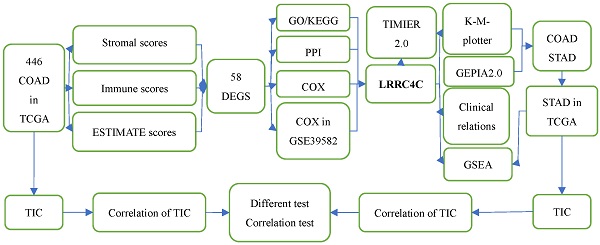 In this study, we aimed to use ESTIMATE and CIBERSORT computational methods to analyse transcriptional information on COAD and STAD in TCGA. We downloaded transcriptome RNA-seq data of 446 patients with colon cancer from TCGA and estimated the amount of immune and stromal components in the COAD samples using CIBERSORT algorithms. We analysed differentially expressed genes in 446 TCGA samples and 585 Series GSE39582 samples, in high- and low-scoring groups, using Cox regression. The expression of LRRC4C, correlated positively with clinicopathological characteristics and negatively with the survival of patients with COAD. Single-gene survival analysis using Gene Expression Profiling Interactive Analysis 2.0 and Kaplan-Meier plotter revealed an association between high levels of LRRC4C expression and poor prognosis in patients with colon and gastric cancers. Gene set enrichment analysis of COAD and STAD samples indicated that genes in groups expressing high and low LRRC4C levels were mainly enriched in immune-related activities and metabolic pathways, respectively. Difference and correlation analyses of the relationship between LRRC4C expression and tumour-infiltrating immune cells, determined using CIBERSORT algorithms, revealed that monocytes, resting mast cells, and M2 macrophages were positively correlated with LRRC4C expression.
Keywords: TME, LRRC4C, ESTIMATE, CIBERSORT, gastric cancer, colon cancer