Int J Biol Sci 2021; 17(3):689-701. doi:10.7150/ijbs.53667 This issue
Research Paper
Preclinical evaluation of radiation therapy of BRCA1-associated mammary tumors using a mouse model
1. Research Institute, National Cancer Center, Goyang, 10408, Korea.
2. Proton Therapy Center, National Cancer Center Hospital, Goyang, 10408, Korea.
3. Cancer Centre, Faculty of Health Sciences, University of Macau, Macau SAR 999078, China.

This is an open access article distributed under the terms of the Creative Commons Attribution License (https://creativecommons.org/licenses/by/4.0/). See http://ivyspring.com/terms for full terms and conditions.
Citation:
Cho EJ, Kim JK, Baek HJ, Kim SE, Park EJ, Choi BK, Kim TH, Shin DH, Lim YK, Deng CX, Kim SS. Preclinical evaluation of radiation therapy of
BRCA1
-associated mammary tumors using a mouse model.
Int J Biol Sci
2021; 17(3):689-701. doi:10.7150/ijbs.53667. Available from
https://www.ijbs.com/v17p0689.htm
Abstract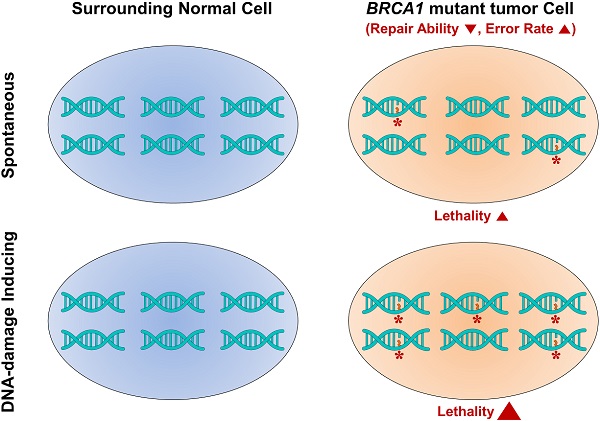 Although germline mutations in BRCA1 highly predispose women towards breast and ovarian cancer, few substantial improvements in preventing or treating such cancers have been made. Importantly, BRCA1 function is closely associated with DNA damage repair, which is required for genetic stability. Here, we examined the efficacy of radiotherapy, assessing the accumulation of genetic instabilities, in the treatment of BRCA1-associated breast cancer using a Brca1-mutant mouse model. Treatment of Brca1-mutant tumor-engrafted mice with X-rays reduced tumor progression by 27.9% compared with untreated controls. A correlation analysis of irradiation responses and biomarker profiles in tumors at baseline identified differences between responders and non-responders at the protein level (pERα, pCHK2, p53, and EpCAM) and at the SOX2 target expression level. We further demonstrated that combined treatment of Brca1-mutant mammary tumors with irradiation and AZD2281, which inhibits PARP, significantly reduced tumor progression and extended survival. Our findings enhance the understanding of DNA damage and biomarker responses in BRCA1-associated mammary tumors and provide preclinical evidence that radiotherapy with synthetic DNA damage is a potential strategy for the therapeutic management of BRCA1-associated breast cancer.
Keywords: BRCA1, irradiation, AZD2281, precision medicine