Int J Biol Sci 2021; 17(3):781-795. doi:10.7150/ijbs.52517 This issue
Research Paper
miR-26b enhances the sensitivity of hepatocellular carcinoma to Doxorubicin via USP9X-dependent degradation of p53 and regulation of autophagy
1. The Second Affiliated Hospital of Zhejiang University, School of Medicine, Hangzhou, China.
2. Zhejiang Provincial Key Laboratory of Pancreatic Disease, Hangzhou, China.
3. Department of Hepatobiliary and Pancreatic Surgery, The First Affiliated Hospital, Zhejiang University School of Medicine, Hangzhou, China.
4. Department of Medical Oncology, Tongde hospital of Zhejiang Province, Hangzhou, Zhejiang, 310012, China.
5. Department of Pancreatic Surgery, Fudan University Shanghai Cancer Center, Shanghai 200032, China.
6. Zhejiang Provincial Innovation Center for the Study of Pancreatic Disease, Hangzhou, China.
7. Zhejiang Clinical Research Center of Hepatobiliary and Pancreatic Diseases, Hangzhou, China.
* These authors contributed equally to this work.

This is an open access article distributed under the terms of the Creative Commons Attribution License (https://creativecommons.org/licenses/by/4.0/). See http://ivyspring.com/terms for full terms and conditions.
Citation:
Chen E, Li E, Liu H, Zhou Y, Wen L, Wang J, Wang Y, Ye L, Liang T. miR-26b enhances the sensitivity of hepatocellular carcinoma to Doxorubicin via USP9X-dependent degradation of p53 and regulation of autophagy.
Int J Biol Sci
2021; 17(3):781-795. doi:10.7150/ijbs.52517. Available from
https://www.ijbs.com/v17p0781.htm
Abstract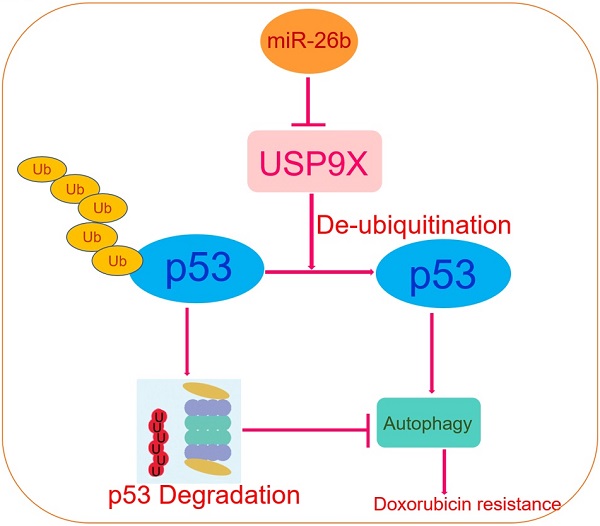 Multi-drug resistance is a major challenge to hepatocellular carcinoma (HCC) treatment, and the over-expression or deletion of microRNA (miRNA) expression is closely related to the drug-resistant properties of various cell lines. However, the underlying molecular mechanisms remain unclear. CCK-8, EdU, flow cytometry, and transmission electron microscopy were performed to determine cell viability, proliferation, apoptosis, autophagic flow, and nanoparticle characterization, respectively. In this study, the results showed that the expression of miR-26b was downregulated following doxorubicin treatment in human HCC tissues. An miR-26b mimic enhanced HCC cell doxorubicin sensitivity, except in the absence of p53 in Hep3B cells. Delivery of the proteasome inhibitor, MG132, reversed the inhibitory effect of miR-26b on the level of p53 following doxorubicin treatment. Tenovin-1 (an MDM2 inhibitor) protected p53 from ubiquitination-mediated degradation only in HepG2 cells with wild type p53. Tenovin-1 pretreatment enhanced HCC cell resistance to doxorubicin when transfected with an miR-26b mimic. Moreover, the miR-26b mimic inhibited doxorubicin-induced autophagy and the autophagy inducer, rapamycin, eliminated the differences in the drug sensitivity effect of miR-26b. In vivo, treatment with sp94dr/miR-26b mimic nanoparticles plus doxorubicin inhibited tumor growth. Our current data indicate that miR-26b enhances HCC cell sensitivity to doxorubicin through diminishing USP9X-mediated p53 de-ubiquitination caused by DNA damaging drugs and autophagy regulation. This miRNA-mediated pathway that modulates HCC will help develop novel therapeutic strategies.
Keywords: microRNA-26b, hepatocellular carcinoma, Doxorubicin, USP9X, p53.