Int J Biol Sci 2021; 17(3):796-806. doi:10.7150/ijbs.54091 This issue
Research Paper
LncRNA-NONHSAT024778 promote the proliferation and invasion of chordoma cell by regulating miR-1290/Robo1 axis
1. Department of Orthopedic Surgery, The First Affiliated Hospital of Soochow University, No. 188 Shizi Street, Suzhou, Jiangsu, China.
2. Department of Orthopaedic Surgery, The Second Affiliated Hospital of Xuzhou Medical University, Xuzhou, Jiangsu, China.
3. Jiangsu Center for the Collaboration and Innovation of Cancer Biotherapy, Cancer Institute, Xuzhou Medical University, Xuzhou, Jiangsu, China.
#These authors contributed equally to this work.

This is an open access article distributed under the terms of the Creative Commons Attribution License (https://creativecommons.org/licenses/by/4.0/). See http://ivyspring.com/terms for full terms and conditions.
Citation:
Wang B, Zhang K, Meng S, Shao X, Zhou Z, Mao H, Zhu Z, Chen H, Yang H, Chen K. LncRNA-NONHSAT024778 promote the proliferation and invasion of chordoma cell by regulating miR-1290/Robo1 axis.
Int J Biol Sci
2021; 17(3):796-806. doi:10.7150/ijbs.54091. Available from
https://www.ijbs.com/v17p0796.htm
Abstract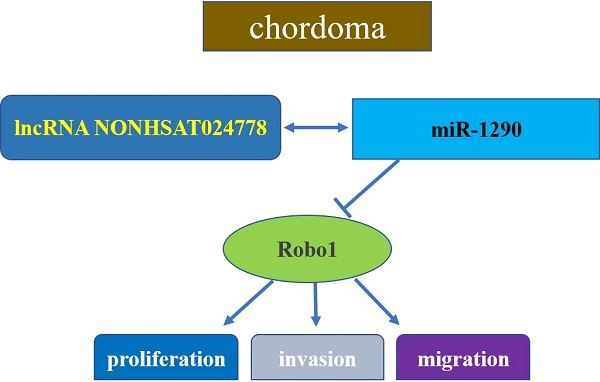 Chordoma is a malignant bone tumor originating from the embryonic remnants of the notochord. lncRNAs act as competing endogenous RNAs (ceRNAs) and play a critical role in tumor pathology. However, the biological role of lncRNA-NONHSAT024778 and the underlying molecular mechanism in chordoma remains unknown. qRT-PCR was used to analyze the expression changes of NONHSAT024778 and miR-1290 in chordoma tissues and cell lines. Bioinformatics analysis and luciferase reporter assay were applied to detect the targeting binding effect between NONHSAT024778 and miR-1290, and between Robo1 and miR-1290. The effect of NONHSAT024778 on chordoma cell proliferation and invasion and its regulation of miR-1290 by acting as a ceRNA were also investigated. An increased NONHSAT024778 expression was correlated with a decreased miR-1290 level in chordoma tissues. NONHSAT024778 knockdown suppressed the proliferation and invasion of chordoma cells. miR-1290 restored expression rescued the carcinogenic function of NONHSAT024778. Bioinformatics analysis showed that NONHSAT024778 acted as ceRNA to regulate Robo1 via sponging miR-1290 in chordoma cells, thereby promoting chordoma cell malignant progression. In vivo results confirmed the anti-tumor effects of NONHSAT024778 knockdown activating miR-1290 to inhibit the oncogene Robo1. NONHSAT024778 is substantially overexpressed, whereas miR-1290 is decreased in chordoma tissue. NONHSAT024778-miR-1290-Robo1 axis plays a critical role in chordoma tumorigenesis and might be a potential predictive biomarker for the diagnosis and therapeutic target among patients with chordoma.
Keywords: chordoma, NONHSAT024778, miR-1290, Robo1, proliferation, invasion