Int J Biol Sci 2021; 17(6):1538-1546. doi:10.7150/ijbs.59547 This issue
Review
Hydroxychloroquine/Chloroquine as Therapeutics for COVID-19: Truth under the Mystery
1. Department of Physiology, School of Preclinical Medicine, Guangxi Medical University, Nanning, Guangxi Province, China, 530021.
2. Department of Toxicology, School of Public Health, Guangxi Medical University, Nanning, Guangxi Province, China, 530021.
3. Faculty of Health Sciences, University of Macau, Taipa, Macau, China
4. Department of Physiology, Yong Loo Lin School of Medicine, National University of Singapore, Singapore
* These authors contributed equally to this work.

This is an open access article distributed under the terms of the Creative Commons Attribution License (https://creativecommons.org/licenses/by/4.0/). See http://ivyspring.com/terms for full terms and conditions.
Citation:
Chen Y, Li MX, Lu GD, Shen HM, Zhou J. Hydroxychloroquine/Chloroquine as Therapeutics for COVID-19: Truth under the Mystery.
Int J Biol Sci
2021; 17(6):1538-1546. doi:10.7150/ijbs.59547. Available from
https://www.ijbs.com/v17p1538.htm
Abstract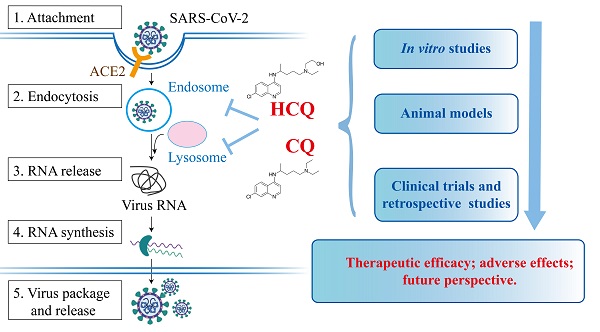 The outbreak of coronavirus disease-19 (COVID-19) caused by severe acute respiratory syndrome coronavirus 2 (SARS-CoV-2) has rapidly evolved into a global pandemic. One major challenge in the battle against this deadly disease is to find effective therapy. Due to the availability and proven clinical record of hydroxychloroquine (HCQ) and chloroquine (CQ) in various human diseases, there have been enormous efforts in repurposing these two drugs as therapeutics for COVID-19. To date, substantial amount of work at cellular, animal models and clinical trials have been performed to verify their therapeutic potential against COVID-19. However, neither lab-based studies nor clinical trials have provided consistent and convincing evidence to support the therapeutic value of HCQ/CQ in the treatment of COVID-19. In this mini review we provide a systematic summary on this important topic and aim to reveal some truth covered by the mystery regarding the therapeutic value of HCQ/CQ in COVID-19.
Keywords: COVID-19, SARS-CoV-2, HCQ, CQ, therapy, clinical trials