Int J Biol Sci 2021; 17(9):2147-2156. doi:10.7150/ijbs.59688 This issue
Review
The role of Exosomes in the Pathogenesis of Nasopharyngeal Carcinoma and the involved Clinical Application
Department of Clinical Laboratory, Xiangya Hospital, Central South University, Changsha, Hunan Province 410008, China.

This is an open access article distributed under the terms of the Creative Commons Attribution License (https://creativecommons.org/licenses/by/4.0/). See http://ivyspring.com/terms for full terms and conditions.
Citation:
Luo H, Yi B. The role of Exosomes in the Pathogenesis of Nasopharyngeal Carcinoma and the involved Clinical Application.
Int J Biol Sci
2021; 17(9):2147-2156. doi:10.7150/ijbs.59688. Available from
https://www.ijbs.com/v17p2147.htm
Abstract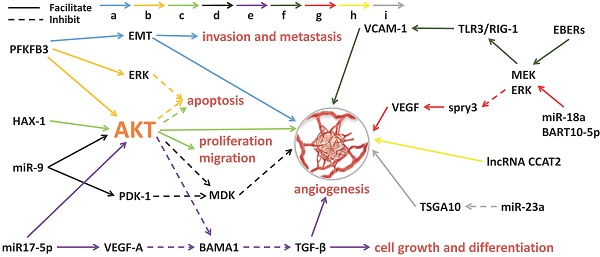 Exosomes are nanoscale membrane vesicles, which carry biologically active substances of their cell of origin and play an important role in signal transduction and intercellular communication. At present, exosomes have been identified as a promising non-invasive liquid biopsy biomarker in the tissues and circulating blood of nasopharyngeal carcinoma (NPC) and found to participate in regulating pathophysiological process of the tumor. We here review recent insights gained into the molecular mechanisms of exosome-induced cell growth, angiogenesis, metastasis, immunosuppression, radiation resistance and chemotherapy resistance in the development and progression of NPC, as well as the clinical application of exosomes as diagnostic biomarkers and therapeutic agents. We also discuss the limitations and challenges in exosome application. We hope this review may provide some references for the use of exosomes in clinical intervention.
Keywords: exosomes, NPC, angiogenesis, tumor metastasis