Int J Biol Sci 2021; 17(9):2205-2222. doi:10.7150/ijbs.58295 This issue
Research Paper
Hexokinase 3 dysfunction promotes tumorigenesis and immune escape by upregulating monocyte/macrophage infiltration into the clear cell renal cell carcinoma microenvironment
1. Department of Urology, Fudan University Shanghai Cancer Center, Shanghai Medical College, Fudan University, Shanghai, 200032, P.R. China.
2. Department of Urology, Affiliated Hospital of Youjiang Medical University for Nationalities, Baise, 533000, P.R. China.
3. Department of Ophthalmology, Dushuhu Public Hospital Affiliated to Soochow University, Suzhou, 215000, P.R. China.
*Equal contributions to this work.

This is an open access article distributed under the terms of the Creative Commons Attribution License (https://creativecommons.org/licenses/by/4.0/). See http://ivyspring.com/terms for full terms and conditions.
Citation:
Xu W, Liu WR, Xu Y, Tian X, Anwaier A, Su JQ, Zhu WK, Shi GH, Wei GM, Huang YP, Qu YY, Zhang HL, Ye DW. Hexokinase 3 dysfunction promotes tumorigenesis and immune escape by upregulating monocyte/macrophage infiltration into the clear cell renal cell carcinoma microenvironment.
Int J Biol Sci
2021; 17(9):2205-2222. doi:10.7150/ijbs.58295. Available from
https://www.ijbs.com/v17p2205.htm
Abstract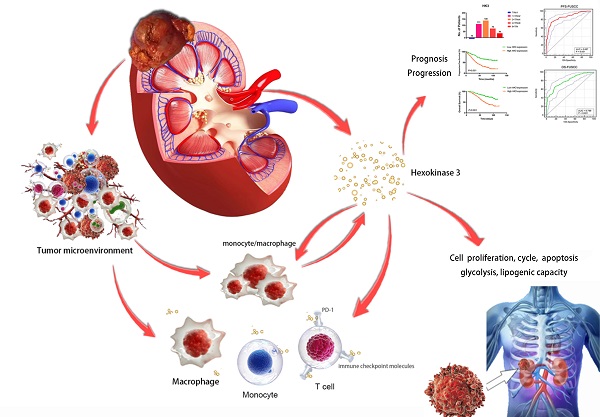 Purpose: This study aimed to identify the potential prognostic role of HK3 and provide clues about glycolysis and the microenvironmental characteristics of ccRCC.
Methods: Based on the Cancer Genome Atlas (TCGA, n = 533) and Gene expression omnibus (GEO) (n = 127) databases, real-world (n = 377) ccRCC cohorts, and approximately 15,000 cancer samples, the prognostic value and immune implications of HK3 were identified. The functional effects of HK3 in ccRCC were analyzed in silico and in vitro.
Results: The large-scale findings suggested a significantly higher HK3 expression in ccRCC tissues and the predictive efficacy of HK3 for tumor progression and a poor prognosis. Next, the subgroup survival and Cox regression analyses showed that HK3 serves as a promising and independent predictive marker for the prognosis and survival of patients with ccRCC from bioinformatic databases and real-world cohorts. Subsequently, we found that HK3 could be used to modulate glycolysis and the malignant behaviors of ccRCC cells. The comprehensive results suggested that HK3 is highly correlated with the abundance of immune cells, and specifically stimulates the infiltration of monocytes/macrophages presenting surface markers, regulates the immune checkpoint molecules PD-1 and CTLA-4 of exhaustive T cells, restrains the immune escape of tumor cells, and prompts the immune-rejection microenvironment of ccRCC.
Conclusion: In conclusion, the large-scale data first revealed that HK3 could affect glycolysis, promote malignant biologic processes, and predict the aggressive progression of ccRCC. HK3 may stimulate the abundance of infiltrating monocytes/macrophages presenting surface markers and regulate the key molecular subgroups of immune checkpoint molecules of exhaustive T cells, thus inducing the microenvironmental characteristics of active anti-tumor immune responses.
Keywords: clear cell renal cell carcinoma, HK3, immune checkpoint therapy (ICT), glycolysis, tumor microenvironment