Int J Biol Sci 2021; 17(10):2606-2621. doi:10.7150/ijbs.60292 This issue
Research Paper
Cisplatin Induces Pyroptosis via Activation of MEG3/NLRP3/caspase-1/GSDMD Pathway in Triple-Negative Breast Cancer
Department of Pathology, Renmin Hospital of Wuhan University, Wuhan, Hubei 430060, P.R. China.

This is an open access article distributed under the terms of the Creative Commons Attribution License (https://creativecommons.org/licenses/by/4.0/). See http://ivyspring.com/terms for full terms and conditions.
Citation:
Yan H, Luo B, Wu X, Guan F, Yu X, Zhao L, Ke X, Wu J, Yuan J. Cisplatin Induces Pyroptosis via Activation of MEG3/NLRP3/caspase-1/GSDMD Pathway in Triple-Negative Breast Cancer.
Int J Biol Sci
2021; 17(10):2606-2621. doi:10.7150/ijbs.60292. Available from
https://www.ijbs.com/v17p2606.htm
Abstract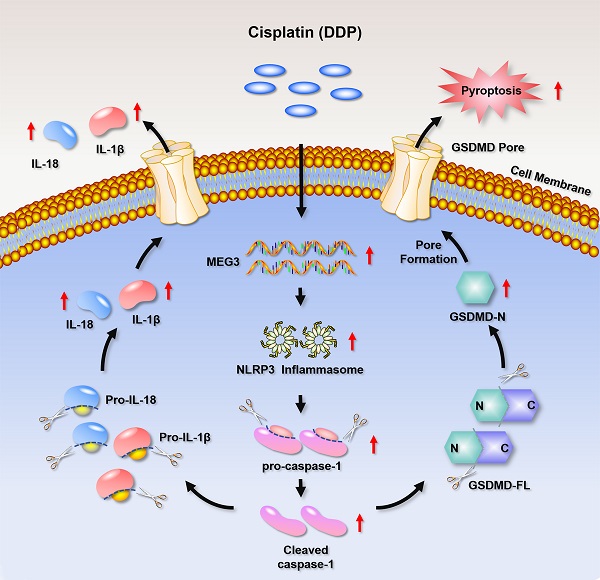 Cisplatin (DDP) was reported to improve pathological complete response (pCR) rates in triple-negative breast cancer (TNBC) patients, however, the molecular mechanism still remains largely unknown. Emerging evidence suggested that some chemotherapeutic drugs played anti-tumor effects by inducing cell pyroptosis. Nevertheless, whether pyroptosis contributes to the DDP-induced anti-tumor effect in TNBC remains unexploited. In the present study, NLRP3/caspase-1/GSDMD pyroptosis pathway was involved in the DDP-induced anti-tumor effect of TNBC in vitro and in vivo, providing evidence that DDP might induce pyroptosis in TNBC. Moreover, DDP activated NLRP3/caspase-1/GSDMD pyroptosis pathway by up-regulating the long non-coding RNA (lncRNA) maternally expressed gene 3 (MEG3). Furthermore, knockdown of MEG3 not only partly abolished the activation effect of DDP on NLRP3/caspase-1/GSDMD pathway-mediated pyroptosis, but also reversed the suppression of DDP on tumor growth and metastasis ability in vitro and in vivo, further confirming that MEG3 may partially mediate the pyroptotic signaling upon DDP treatment. Thus, our data uncovered a novel mechanism that DDP induced pyroptosis via activation of MEG3/NLRP3/caspase-1/GSDMD pathway in TNBC to exert anti-tumor effects, which may help to develop new strategies for the therapeutic interventions in TNBC.
Keywords: triple-negative breast cancer, pyroptosis, cisplatin, MEG3, chemotherapy