Int J Biol Sci 2021; 17(10):2633-2651. doi:10.7150/ijbs.58514 This issue
Research Paper
Downregulation of m6A Reader YTHDC2 Promotes the Proliferation and Migration of Malignant Lung Cells via CYLD/NF-κB Pathway
1. Department of Toxicology, School of Public Health, Medicine College, Soochow University, Suzhou, Jiangsu, 215123, China.
2. Department of Respiratory Medicine, The Second Affiliated Hospital of Soochow University, Suzhou Jiangsu, 215004, China.
#These authors contributed equally to this work.

This is an open access article distributed under the terms of the Creative Commons Attribution License (https://creativecommons.org/licenses/by/4.0/). See http://ivyspring.com/terms for full terms and conditions.
Citation:
Wang J, Tan L, Jia B, Yu X, Yao R, OUYang N, Yu X, Cao X, Tong J, Chen T, Chen R, Li J. Downregulation of m
6
A Reader YTHDC2 Promotes the Proliferation and Migration of Malignant Lung Cells via CYLD/NF-κB Pathway.
Int J Biol Sci
2021; 17(10):2633-2651. doi:10.7150/ijbs.58514. Available from
https://www.ijbs.com/v17p2633.htm
Abstract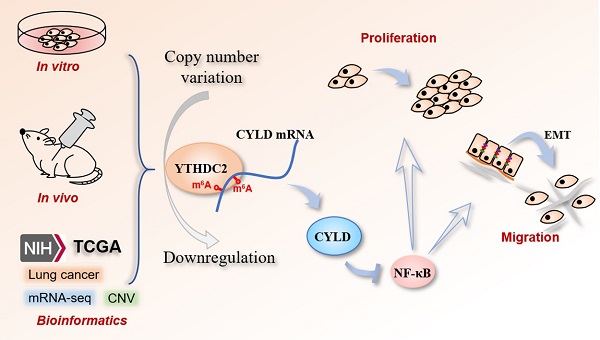 Lung cancer is one of the most common types of carcinoma worldwide. Cigarette smoking is considered the leading cause of lung cancer. Aberrant expression of several YT521-B homology (YTH) family proteins has been reported to be closely associated with multiple cancer types. The present study aims to evaluate the function and regulatory mechanisms of the N6-methyladenosine (m6A) reader protein YTH domain containing 2 (YTHDC2) by in vitro, in vivo and bioinformatics analyses. The results revealed that YTHDC2 was reduced in lung cancer and cigarette smoke-exposed cells. Notably, bioinformatics and tissue arrays analysis demonstrated that decreased YTHDC2 was highly associated with smoking history, pathological stage, invasion depth, lymph node metastasis and poor outcomes. The in vivo and in vitro studies revealed that YTHDC2 overexpression inhibited the proliferation and migration of lung cancer cells as well as tumor growth in nude mice. Furthermore, YTHDC2 decreased expression was modulated by copy number deletion in lung cancer. Importantly, the cylindromatosis (CYLD)/NF-κB pathways were confirmed as the downstream signaling of YTHDC2, and this axis was mediated by m6A modification. The present results indicated that smoking-related downregulation of YTHDC2 was associated with enhanced proliferation and migration in lung cancer cells, and appeared to be regulated by DNA copy number variation. Importantly, YTHDC2 functions as a tumor suppressor through the CYLD/NF-κB signaling pathway, which is mediated by m6A modification.
Keywords: lung cancer, YTHDC2, m6A RNA methylation, CYLD, NF-κB pathway