Int J Biol Sci 2021; 17(10):2652-2665. doi:10.7150/ijbs.61229 This issue
Research Paper
The Spleen Tyrosine Kinase Inhibitor, Entospletinib (GS-9973) Restores Chemosensitivity in Lung Cancer Cells by Modulating ABCG2-mediated Multidrug Resistance
1. Department of Pharmaceutical Sciences, College of Pharmacy and Health Sciences, St. John's University, Queens, NY, 11439, USA.
2. Precision Medicine Center, The Seventh Affiliated Hospital, Sun Yat-Sen University, Shenzhen 518107, PR China.
3. Department of Oncology, The Seventh Affiliated Hospital, Sun Yat-Sen University, Shenzhen, 518107, PR China.

This is an open access article distributed under the terms of the Creative Commons Attribution License (https://creativecommons.org/licenses/by/4.0/). See http://ivyspring.com/terms for full terms and conditions.
Citation:
Narayanan S, Wu ZX, Wang JQ, Ma H, Acharekar N, Koya J, Yoganathan S, Fang S, Chen ZS, Pan Y. The Spleen Tyrosine Kinase Inhibitor, Entospletinib (GS-9973) Restores Chemosensitivity in Lung Cancer Cells by Modulating ABCG2-mediated Multidrug Resistance.
Int J Biol Sci
2021; 17(10):2652-2665. doi:10.7150/ijbs.61229. Available from
https://www.ijbs.com/v17p2652.htm
Abstract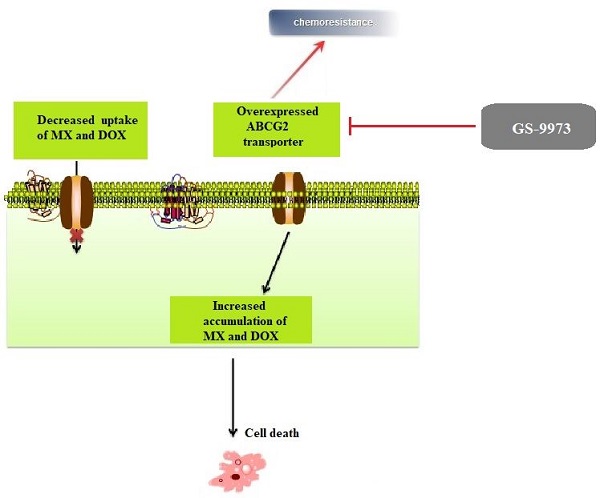 Tyrosine kinase inhibitors (TKIs) are important in managing lymphoid malignancies by targeting B-cell receptor signaling pathways. Entospletinib (GS-9973) is an oral, selective inhibitor of spleen tyrosine kinase (Syk), currently in the phase II clinical trials for the treatment of chronic lymphocytic leukemia. Syk is abundantly present in the cells of hematopoietic lineage that mediates cell proliferation, differentiation, and adhesion. In this current study, we evaluated the efficacy of GS-9973 to overcome multidrug resistance (MDR) due to the overexpression of the ABCG2 transporter in the non-small cell lung cancer (NSCLC) cell line, NCI-H460/MX20. In vitro, 3 μM of GS-9973 reversed the drug resistance of NCI-H460/MX20 cell line to mitoxantrone or doxorubicin. GS-9973, at 3 μM reverses ABCG2-mediated MDR by blocking ABCG2 efflux activity and downregulating ABCG2 expression at the protein level but did not alter the ABCG2 mRNA expression and subcellular localization of the ABCG2 protein compared to drug-resistant cells incubated with the vehicle. GS-9973 produced a moderate concentration-dependent increase in the ATPase activity of ABCG2 (EC50 = 0.42 µM) and molecular docking data indicated that GS-9973 had a high affinity (-10.226 kcal/mol) for the substrate-binding site of ABCG2. Finally, HPLC analysis proved that the intracellular concentration of GS-9973 is not significantly different in both parental and resistant cell lines. In conclusion, our study suggests that in vitro, GS-9973 in combination with certain anticancer drugs, represent a strategy to overcome ABCG2-mediated MDR cancers.
Keywords: Entospletinib, Syk, MDR, reversal effect, ATP binding cassette transporter, ABCG2