Int J Biol Sci 2021; 17(11):2683-2702. doi:10.7150/ijbs.61350 This issue
Research Paper
TNF-α augments CXCL10/CXCR3 axis activity to induce Epithelial-Mesenchymal Transition in colon cancer cell
1. Department of Human Anatomy and Histology and Embryology, School of Basic Medical Sciences, Qingdao University, Qingdao 266000, China.
2. Department of Stem Cell & Regenerative Medicine, State Key Laboratory of Trauma, Burn and Combined Injury, Daping Hospital, Army Medical University, Chongqing 400042, China.
3. Department of Ophthalmology, Daping Hospital, Army Medical University, Chongqing 400042, China.
*These authors contributed equally to this work.

This is an open access article distributed under the terms of the Creative Commons Attribution License (https://creativecommons.org/licenses/by/4.0/). See http://ivyspring.com/terms for full terms and conditions.
Citation:
Wang Z, Ao X, Shen Z, Ao L, Wu X, Pu C, Guo W, Xing W, He M, Yuan H, Yu J, Li L, Xu X. TNF-α augments CXCL10/CXCR3 axis activity to induce Epithelial-Mesenchymal Transition in colon cancer cell.
Int J Biol Sci
2021; 17(11):2683-2702. doi:10.7150/ijbs.61350. Available from
https://www.ijbs.com/v17p2683.htm
Abstract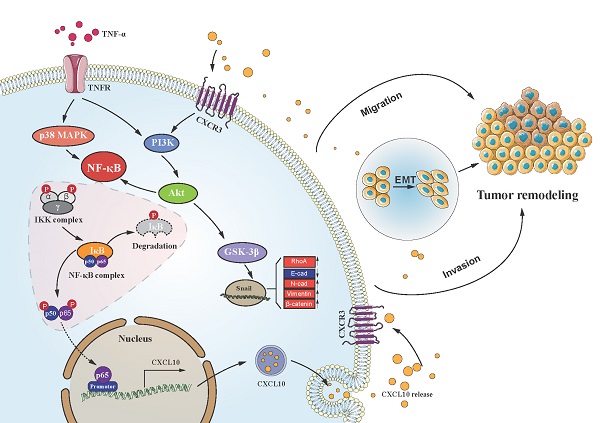 Chronic inflammation-induced metastases have long been regarded as one of the significant obstacles in treating cancer. Tumor necrosis factor-α (TNF-α), a main inflammation mediator within tumor microenvironment, affects tumor development by inducing multiple chemokines to establish a complex network. Recent reports have revealed that CXCL10/CXCR3 axis affects cancer cells invasiveness and metastases, and Epithelial-mesenchymal transition (EMT) is the main reason for frequent proliferation and distant organ metastases of colon cancer (CC) cells, However, it is unclear whether TNF-α- mediated chronic inflammation can synergically enhance EMT-mediated CC metastasis through promoting chemokine expression. According to this study, TNF-α activated the PI3K/Akt and p38 MAPK parallel signal transduction pathways, then stimulate downstream NF-κB pathway p65 into the nucleus to activate CXCL10 transcription. CXCL10 enhanced the metastases of CC-cells by triggering small GTPases such as RhoA and cdc42. Furthermore, overexpression of CXCL10 significantly enhanced tumorigenicity and mobility of CC cells in vivo. We further clarified that CXCL10 activated the PI3K/Akt pathway through CXCR3, resulting in suppression of GSK-3β phosphorylation and leading to upregulation of Snail expression, thereby regulating EMT in CC cells. These outcomes lay the foundation for finding new targets to inhibit CC metastases.
Keywords: CC, TNF-α, CXCL10/CXCR3, migration, invasion, EMT