Int J Biol Sci 2021; 17(11):2718-2736. doi:10.7150/ijbs.60641 This issue
Review
The interplay between m6A modification and non-coding RNA in cancer stemness modulation: mechanisms, signaling pathways, and clinical implications
1. Department of Pathology, Xiangya Hospital, Central South University, Changsha, Hunan, China; and Department of Pathology, School of Basic Medical Science, Xiangya School of Medicine, Central South University, Changsha, Hunan, China.
2. Department of Radiology, Xiangya Hospital, Central South University, Changsha, Hunan, China.
3. National Clinical Research Center for Geriatric Disorders, Xiangya Hospital, Central South University, Changsha, Hunan, China.
4. Department of Interventional Radiology, The 3rd Affiliated Hospital of Sun Yat-Sen University, Guangzhou, Guangdong, China.
#These authors contributed equally to this work.

This is an open access article distributed under the terms of the Creative Commons Attribution License (https://creativecommons.org/licenses/by/4.0/). See http://ivyspring.com/terms for full terms and conditions.
Citation:
Qin S, Mao Y, Wang H, Duan Y, Zhao L. The interplay between m6A modification and non-coding RNA in cancer stemness modulation: mechanisms, signaling pathways, and clinical implications.
Int J Biol Sci
2021; 17(11):2718-2736. doi:10.7150/ijbs.60641. Available from
https://www.ijbs.com/v17p2718.htm
Abstract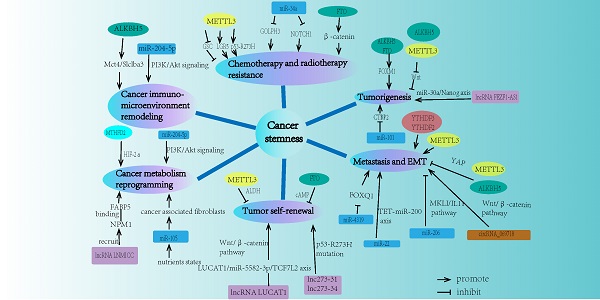 Cancer stemness, mainly consisting of chemo-resistance, radio-resistance, tumorigenesis, metastasis, tumor self-renewal, cancer metabolism reprogramming, and tumor immuno-microenvironment remodeling, play crucial roles in the cancer progression process and has become the hotspot of cancer research field in recent years. Nowadays, the exact molecular mechanisms of cancer stemness have not been fully understood. Extensive studies have recently implicated that non-coding RNA (ncRNA) plays vital roles in modulating cancer stemness. Notably, N6-methyladenosine (m6A) modification is of crucial importance for RNAs to exert their biological functions, including RNA splicing, stability, translation, degradation, and export. Emerging evidence has revealed that m6A modification can govern the expressions and functions of ncRNAs, consequently controlling cancer stemness properties. However, the interaction mechanisms between ncRNAs and m6A modification in cancer stemness modulation are rarely investigated. In this review, we elucidate the recent findings on the relationships of m6A modification, ncRNAs, and cancer stemness. We also focus on some key signaling pathways such as Wnt/β-catenin signaling, MAPK signaling, Hippo signaling, and JAK/STAT3 signaling to illustrate the underlying interplay mechanisms between m6A modification and ncRNAs in cancer stemness. In particular, we briefly highlight the clinical potential of ncRNAs and m6A modifiers as promising biomarkers and therapeutic targets for indicating cancer stemness properties and improving the diagnostic precision for a wide variety of cancers.
Keywords: N6-methyladenosine (m6A) modification, non-coding RNA (ncRNA), cancer stemness, signaling pathways, biomarkers