Int J Biol Sci 2021; 17(11):2737-2755. doi:10.7150/ijbs.61410 This issue
Review
The Multifaceted Role of Long Non-Coding RNA in Gastric Cancer: Current Status and Future Perspectives
1. Laboratory of Molecular Pharmacology, Department of Pharmacology, School of Pharmacy, Southwest Medical University, Luzhou 646000, Sichuan, China.
2. South Sichuan Institute of Translational Medicine, Luzhou 646000, Sichuan, China.
3. Antibiotics Research and Re-evaluation Key Laboratory of Sichuan Province,Sichuan Industrial Institute of Antibiotics, School of Pharmacy, Chengdu University, Chengdu 610106, Sichuan, China.
4. Department of Pharmacy, the Affiliated Hospital of Southwest Medical University, Luzhou 646000, Sichuan, China.
5. Department of Gastroenterology, Shenzhen Hospital, Southern Medical University, Shenzhen 518000, Guangzhou, China.
#These authors contributed equally to the work.

This is an open access article distributed under the terms of the Creative Commons Attribution License (https://creativecommons.org/licenses/by/4.0/). See http://ivyspring.com/terms for full terms and conditions.
Citation:
Li Y, Lu L, Wu X, Li Q, Zhao Y, Du F, Chen Y, Shen J, Xiao Z, Wu Z, Hu W, Cho CH, Li M. The Multifaceted Role of Long Non-Coding RNA in Gastric Cancer: Current Status and Future Perspectives.
Int J Biol Sci
2021; 17(11):2737-2755. doi:10.7150/ijbs.61410. Available from
https://www.ijbs.com/v17p2737.htm
Abstract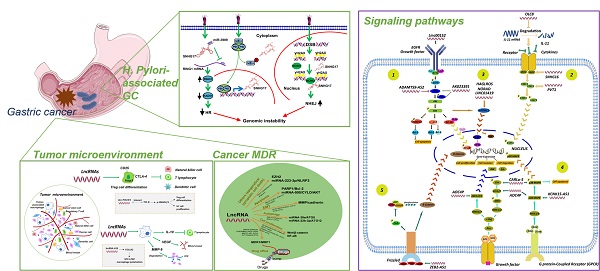 Gastric cancer (GC) is one of the major public health concerns. Long non-coding RNAs (lncRNAs) have been increasingly demonstrated to possess a strong correlation with GC and play a critical role in GC occurrence, progression, metastasis and drug resistance. Many studies have shed light on the understanding of the underlying mechanisms of lncRNAs in GC. In this review, we summarized the updated research about lncRNAs in GC, focusing on their roles in Helicobacter pylori infection, GC metastasis, tumor microenvironment regulation, drug resistance and associated signaling pathways. LncRNAs may serve as novel biomarkers for diagnosis and prognosis of GC and potential therapeutic targets. The research gaps and future directions were also discussed.
Keywords: long non-coding RNA, gastric cancer, drug resistance, helicobacter pylori, tumor microenvironment