Int J Biol Sci 2021; 17(11):2795-2810. doi:10.7150/ijbs.60509 This issue
Research Paper
miR-21a-5p Promotes Inflammation following Traumatic Spinal Cord Injury through Upregulation of Neurotoxic Reactive Astrocyte (A1) Polarization by Inhibiting the CNTF/STAT3/Nkrf Pathway
1. Central Hospital Affiliated to Shandong First Medical University, Shandong First Medical University & Shandong Academy of Medical Sciences, Jinan, Shandong 250013, China.
2. Jinan Central Hospital, Cheeloo College of Medicine, Shandong University, No.105, Jiefang Road, Jinan, Shandong 250013, China.
3. School of Clinical Medicine, Weifang Medical University, Weifang 261053, China.

This is an open access article distributed under the terms of the Creative Commons Attribution License (https://creativecommons.org/licenses/by/4.0/). See http://ivyspring.com/terms for full terms and conditions.
Citation:
Zhang Y, Meng T, Chen J, Zhang Y, Kang J, Li X, Yu G, Tian L, Jin Z, Dong H, Zhang X, Ning B. miR-21a-5p Promotes Inflammation following Traumatic Spinal Cord Injury through Upregulation of Neurotoxic Reactive Astrocyte (A1) Polarization by Inhibiting the CNTF/STAT3/Nkrf Pathway.
Int J Biol Sci
2021; 17(11):2795-2810. doi:10.7150/ijbs.60509. Available from
https://www.ijbs.com/v17p2795.htm
Abstract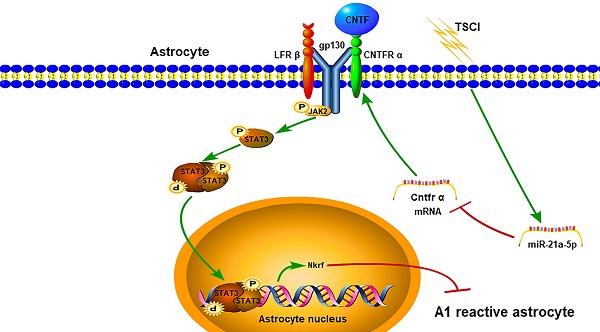 Reactive astrocytes are implicated in traumatic spinal cord injury (TSCI). Interestingly, naïve astrocytes can easily transform into neurotoxic reactive astrocytes (A1s) with inflammatory stimulation. Previous studies demonstrated that microRNA(miR)-21a-5p was up-regulated in spinal cord tissue after TSCI; however, it is not clear whether this affected reactive astrocyte polarization. Here, we aim to detect the effects of miR-21a-5p on the induction of A1 formation and the underlying mechanisms. Our study found that the expression of miR-21a-5p was significantly increased while that of Cntfr α was decreased, since naïve astrocytes transformed into A1s 3 days post-TSCI; the binding site between miR-21a-5p and Cntfr α was further confirmed in astrocytes. After treatment with CNTF, the levels of A1 markers decreased while that of A2 increased. The expression of A1 markers significantly decreased with the downregulation of miR-21a-5p, while Cntfr α siRNA treatment caused the opposite both in vitro and in vivo. To summarize, miR-21a-5p/Cntfr α promotes A1 induction and might enhance the inflammatory process of TSCI; furthermore, we identified, for the first time, the effect and potential mechanism by which CNTF inhibits naïve astrocytes transformation into A1s. Collectively, our findings demonstrate that targeting miR-21a-5p represents a prospective therapy for promoting the recovery of TSCI.
Keywords: microRNA-21a-5p, Traumatic Spinal Cord Injury (TSCI), neurotoxic reactive astrocyte (A1s), ciliary neurotrophic factor (CNTF), ciliary neurotrophic factor receptor α (CNTFR α)