Int J Biol Sci 2021; 17(11):2853-2870. doi:10.7150/ijbs.60354 This issue
Review
Non-shivering Thermogenesis Signalling Regulation and Potential Therapeutic Applications of Brown Adipose Tissue
1. Guangdong Engineering Research Center of Natural Products and New Drugs, Guangdong Provincial University Engineering Technology Research Center of Natural Products and Drugs, Guangdong Pharmaceutical University, Guangzhou 510006, China
2. Guangdong Metabolic Diseases Research Centre of Integrated Chinese and Western Medicine, Guangdong Pharmaceutical University, Guangzhou 510006, China
3. Guangdong Cosmetics Engineering & Technology Research Center, School of Chemistry and Chemical Engneering, Guangdong Pharmaceutical University, Guangzhou 510006, China
4. Guangzhou Rainhome Pharm & Tech Co., Ltd., Guangzhou 510663, China
5. School of Public Health, Guangdong Pharmaceutical University, Guangzhou 510310, China
# Co-first author

This is an open access article distributed under the terms of the Creative Commons Attribution License (https://creativecommons.org/licenses/by/4.0/). See http://ivyspring.com/terms for full terms and conditions.
Citation:
Zhang Z, Yang D, Xiang J, Zhou J, Cao H, Che Q, Bai Y, Guo J, Su Z. Non-shivering Thermogenesis Signalling Regulation and Potential Therapeutic Applications of Brown Adipose Tissue.
Int J Biol Sci
2021; 17(11):2853-2870. doi:10.7150/ijbs.60354. Available from
https://www.ijbs.com/v17p2853.htm
Abstract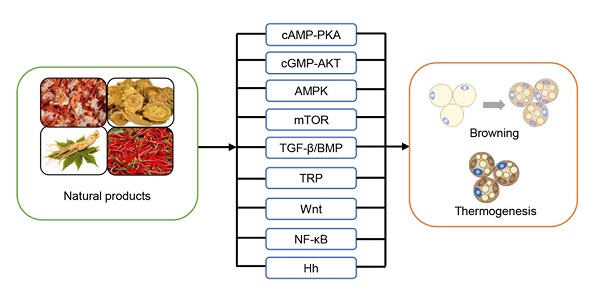 In mammals, thermogenic organs exist in the body that increase heat production and enhance energy regulation. Because brown adipose tissue (BAT) consumes energy and generates heat, increasing energy expenditure via BAT might be a potential strategy for new treatments for obesity and obesity-related diseases. Thermogenic differentiation affects normal adipose tissue generation, emphasizing the critical role that common transcriptional regulation factors might play in common characteristics and sources. An understanding of thermogenic differentiation and related factors could help in developing ways to improve obesity indirectly or directly through targeting of specific signalling pathways. Many studies have shown that the active components of various natural products promote thermogenesis through various signalling pathways. This article reviews recent major advances in this field, including those in the cyclic adenosine monophosphate-protein kinase A (cAMP-PKA), cyclic guanosine monophosphate-GMP-dependent protein kinase G (cGMP-AKT), AMP-activated protein kinase (AMPK), mammalian target of rapamycin (mTOR), transforming growth factor-β/bone morphogenic protein (TGF-β/BMP), transient receptor potential (TRP), Wnt, nuclear factor-κ-light-chain-enhancer of activated B cells (NF-κΒ), Notch and Hedgehog (Hh) signalling pathways in brown and brown-like adipose tissue. To provide effective information for future research on weight-loss nutraceuticals or drugs, this review also highlights the natural products and their active ingredients that have been reported in recent years to affect thermogenesis and thus contribute to weight loss via the above signalling pathways.
Keywords: Thermogenesis, Signalling Pathways, Obesity, Brown Adipose Tissue, Natural products