Int J Biol Sci 2021; 17(11):2884-2898. doi:10.7150/ijbs.59891 This issue
Research Paper
Roquin2 suppresses breast cancer progression by inhibiting tumor angiogenesis via selectively destabilizing proangiogenic factors mRNA
1. Department of Endocrinology, Beijing Jishuitan Hospatial, The 4 th Clinical Medical College of Peking University, Beijing, 100035, China
2. Institute of Microcirculation, Chinese Academy of Medical Sciences & Peking Union Medical College, Beijing, 100005, China
# These authors contributed equally to this work.

This is an open access article distributed under the terms of the Creative Commons Attribution License (https://creativecommons.org/licenses/by/4.0/). See http://ivyspring.com/terms for full terms and conditions.
Citation:
Zhou M, Lu W, Li B, Yuan X, Liu M, Han J, Liu X, Li A. Roquin2 suppresses breast cancer progression by inhibiting tumor angiogenesis via selectively destabilizing proangiogenic factors mRNA.
Int J Biol Sci
2021; 17(11):2884-2898. doi:10.7150/ijbs.59891. Available from
https://www.ijbs.com/v17p2884.htm
Abstract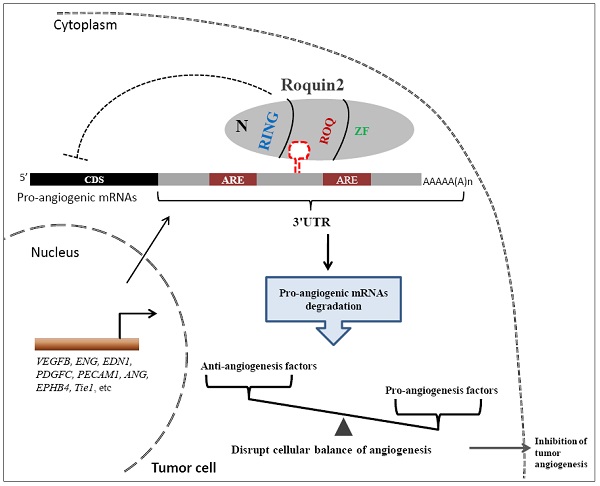 Tumor angiogenesis is an essential step in tumor growth and metastasis. The initiation of tumor angiogenesis is dictated by a shift in the balance between proangiogenic and antiangiogenic gene expression programs. Roquin2 is a zinc-finger RNA-binding protein with important roles in mediating the expression of inflammatory genes, such as TNF, IL6 and PTGS2, which are also important angiogenic factors. In this study, we demonstrate that Roquin2 functions as a potent tumor angiogenesis regulator that inhibits breast tumor-induced angiogenesis by selectively destabilizing mRNA of proangiogenic gene transcripts, including endoglin (ENG), endothelin-1 (EDN1), vascular endothelial growth factor B (VEGFB) and platelet derived growth factor C (PDGFC). Roquin2 recognizes and binds the stem-loop structure in the 3'untranslated region (3'UTR) of these mRNAs via its ROQ domain to destabilize mRNA. Moreover, we found that Roquin2 expression was reduced in breast cancer cells and tissues, and associated with poor prognosis in breast cancer patients. Overexpression of Roquin2 inhibited breast tumor-induced angiogenesis in vitro and in vivo, whereas silencing Roquin2 enhanced tumor angiogenesis. In vivo induction of Roquin2 by adenovirus significantly suppressed breast tumor growth, metastasis and angiogenesis. Taken together, our results identify that Roquin2 is a novel breast cancer suppressor that inhibits tumor angiogenesis by selectively downregulating the expression of proangiogenic genes.
Keywords: Roquin2, tumor angiogenesis, metastasis, mRNA degradation, breast cancer