Int J Biol Sci 2021; 17(11):2944-2956. doi:10.7150/ijbs.57038 This issue
Research Paper
Antigen Delivery to DEC205+ Dendritic Cells Induces Immunological Memory and Protective Therapeutic Effects against HPV-Associated Tumors at Different Anatomical Sites
1. Vaccine Development Laboratory, Department of Microbiology, Institute of Biomedical Sciences, University of São Paulo, São Paulo, SP, Brazil
2. Laboratory of Antigen Targeting to Dendritic Cells, Department of Parasitology, Institute of Biomedical Sciences University of São Paulo, São Paulo, Brazil
#Present address: Division of Infection and Immunity, University College London, 5 University St, Bloomsbury WC1E 6JF, London.

This is an open access article distributed under the terms of the Creative Commons Attribution License (https://creativecommons.org/licenses/by/4.0/). See http://ivyspring.com/terms for full terms and conditions.
Citation:
Silva MO, Almeida BS, Sales NS, Diniz MO, Aps LRMM, Rodrigues KB, Silva JR, Moreno ACR, Porchia BFMM, Sulczewski FB, Boscardin SB, Ferreira LCS. Antigen Delivery to DEC205
+
Dendritic Cells Induces Immunological Memory and Protective Therapeutic Effects against HPV-Associated Tumors at Different Anatomical Sites.
Int J Biol Sci
2021; 17(11):2944-2956. doi:10.7150/ijbs.57038. Available from
https://www.ijbs.com/v17p2944.htm
Abstract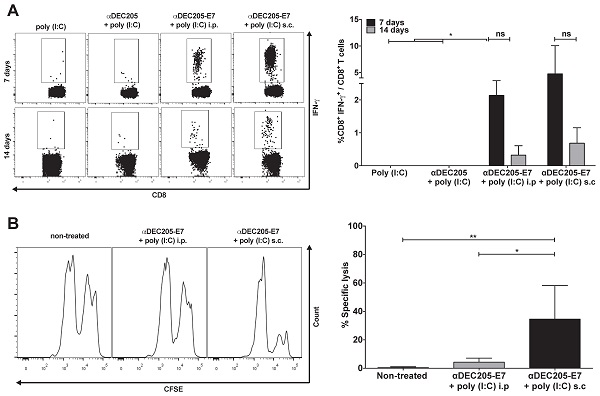 The generation of successful anticancer vaccines relies on the ability to induce efficient and long-lasting immune responses to tumor antigens. In this scenario, dendritic cells (DCs) are essential cellular components in the generation of antitumor immune responses. Thus, delivery of tumor antigens to specific DC populations represents a promising approach to enhance the efficiency of antitumor immunotherapies. In the present study, we employed antibody-antigen conjugates targeting a specific DC C-type lectin receptor. For that purpose, we genetically fused the anti-DEC205 monoclonal antibody to the type 16 human papillomavirus (HPV-16) E7 oncoprotein to create a therapeutic vaccine to treat HPV-associated tumors in syngeneic mouse tumor models. The therapeutic efficacy of the αDEC205-E7 mAb was investigated in three distinct anatomical tumor models (subcutaneous, lingual and intravaginal). The immunization regimen comprised two doses of the αDEC205-E7 mAb coadministered with a DC maturation stimulus (Polyinosinic:polycytidylic acid, poly (I:C)) as an adjuvant. The combined immunotherapy produced robust antitumor effects on both the subcutaneous and orthotopic tumor models, stimulating rapid tumor regression and long-term survival. These outcomes were related to the activation of tumor antigen-specific CD8+ T cells in both systemic compartments and lymphoid tissues. The αDEC205-E7 antibody plus poly (I:C) administration induced long-lasting immunity and controlled tumor relapses. Our results highlight that the delivery of HPV tumor antigens to DCs, particularly via the DEC205 surface receptor, is a promising therapeutic approach, providing new opportunities for the development of alternative immunotherapies for patients with HPV-associated tumors at different anatomical sites.
Keywords: DEC205 receptor, cancer immunotherapy, dendritic cells, HPV