Int J Biol Sci 2021; 17(11):2957-2969. doi:10.7150/ijbs.61476 This issue
Research Paper
Inhibition of SARS-CoV-2 pseudovirus invasion by ACE2 protecting and Spike neutralizing peptides: An alternative approach to COVID19 prevention and therapy
1. Key Laboratory of Endemic and Ethnic Diseases, Laboratory of Molecular Biology, Ministry of Education, Guizhou Medical University, Guiyang 550004, China
2. The First Affiliated Hospital of Dalian Medical University, Dalian 116021, China
3. Key Laboratory of Adult Stem Cell Transformation Research, Chinese Academy of Medical Sciences/Stem Cell and Tissue Engineering Research Center, Guizhou Medical University, Guiyang 550004, China
4. Anyu Biopharmaceutical (Hangzhou) Co., Ltd. 9F, Building I, No. 265, Chengrui Street, Qiantang New District, Hangzhou 310018, China
5. Department of Obstetrics and Gynecology, Affiliated Hospital of Guizhou Medical University, Guiyang 550004, China
*These authors contributed equally to this work.

This is an open access article distributed under the terms of the Creative Commons Attribution License (https://creativecommons.org/licenses/by/4.0/). See http://ivyspring.com/terms for full terms and conditions.
Citation:
Chen J, Li S, Lei Z, Tang Q, Mo L, Zhao X, Xie F, Zi D, Tan J. Inhibition of SARS-CoV-2 pseudovirus invasion by ACE2 protecting and Spike neutralizing peptides: An alternative approach to COVID19 prevention and therapy.
Int J Biol Sci
2021; 17(11):2957-2969. doi:10.7150/ijbs.61476. Available from
https://www.ijbs.com/v17p2957.htm
Abstract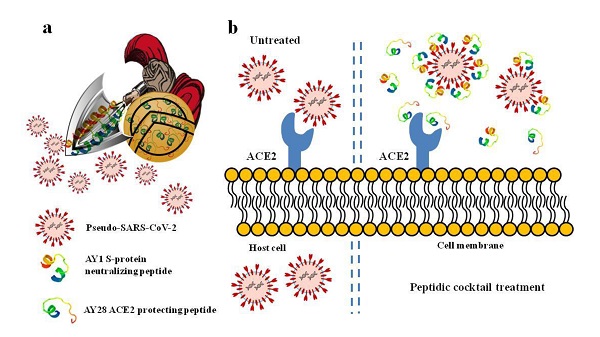 SARS-CoV-2 invades host cells mainly through the interaction of its spike-protein with host cell membrane ACE2. Various antibodies targeting S-protein have been developed to combat COVID-19 pandemic; however, the potential risk of antibody-dependent enhancement and novel spike mutants-induced neutralization loss or antibody resistance still remain. Alternative preventative agents or therapeutics are still urgently needed. In this study, we designed series of peptides with either ACE2 protecting or Spike-protein neutralizing activities. Molecular docking predicted that, among these peptides, ACE2 protecting peptide AYp28 and Spike-protein neutralizing peptide AYn1 showed strongest intermolecular interaction to ACE2 and Spike-protein, respectively, which were further confirmed by both cell- and non-cell-based in vitro assays. In addition, both peptides inhibited the invasion of pseudotype SARS-CoV-2 into HEK293T/hACE2 cells, either alone or in combination. Moreover, the intranasal administration of AYp28 could partially block pseudovirus invasion in hACE2 transgenic mice. Much more importantly, no significant toxicity was observed in peptides-treated cells. AYp28 showed no impacts on ACE2 function. Taken together, the data from our present study predicted promising preventative and therapeutic values of peptides against COVID-19, and may prove the concept that cocktail containing ACE2 protecting peptides and spike neutralizing peptides could serve as a safe and effective approach for SARS-CoV-2 prevention and therapy.
Keywords: SARS-CoV-2, COVID-19, peptide, ACE2, spike protein, cocktail therapy