Int J Biol Sci 2021; 17(12):2984-2999. doi:10.7150/ijbs.60459 This issue
Research Paper
The MEK inhibitor U0126 ameliorates diabetic cardiomyopathy by restricting XBP1's phosphorylation dependent SUMOylation
1. Division of Cardiology, Department of Internal Medicine, Tongji Hospital, Tongji Medical College, Huazhong University of Science and Technology, Wuhan, 430030, PR China; Hubei Key Laboratory of Genetics and Molecular Mechanisms of Cardiological Disorders, Wuhan, 430030, PR China
2. Department of Cardiology, Affiliated Hospital of Weifang Medical University, Weifang, Shandong, 261000, PR China
3. Departments of Respiratory and Critical Care Medicine, Guangdong Provincial People's Hospital, Guangzhou, 510000, PR China
4. Hepatic Surgery Center, Tongji Hospital, Tongji Medical College, Huazhong University of Science and Technology, Wuhan, 430030, PR China
5. Hubei Key Laboratory of Hepato-Pancreato-Biliary Diseases, Wuhan, Hubei, 430030, PR China
6. Hubei Clinical Medicine Research Center of Hepatic Surgery, Wuhan, Hubei, 430030, PR China
7. Key Laboratory of Organ Transplantation, Ministry of Education; NHC Key Laboratory of Organ Transplantation; Key Laboratory of Organ Transplantation, Chinese Academy of Medical Sciences, Wuhan, Hubei, 430030, PR China
8. Center for Thrombosis and Hemostasis, University Medical Center Mainz, Langenbeckstr. 1, 55131 Mainz, Germany
#T.W., J.W. and W.D. contribute equally to this manuscript.

This is an open access article distributed under the terms of the Creative Commons Attribution License (https://creativecommons.org/licenses/by/4.0/). See http://ivyspring.com/terms for full terms and conditions.
Citation:
Wang T, Wu J, Dong W, Wang M, Zhong X, Zhang W, Dai L, Xie Y, Liu Y, He X, Liu W, Madhusudhan T, Zeng H, Wang H. The MEK inhibitor U0126 ameliorates diabetic cardiomyopathy by restricting XBP1's phosphorylation dependent SUMOylation.
Int J Biol Sci
2021; 17(12):2984-2999. doi:10.7150/ijbs.60459. Available from
https://www.ijbs.com/v17p2984.htm
Abstract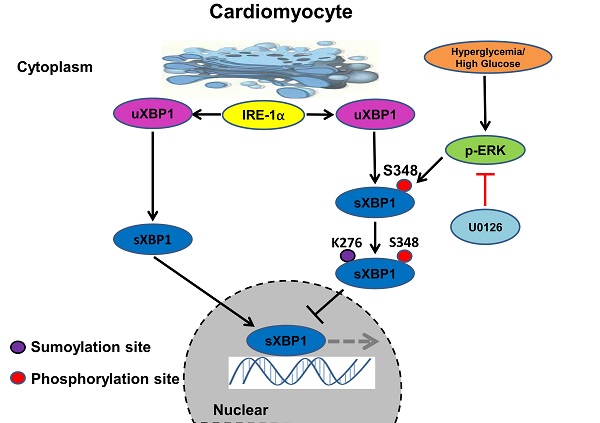 Background: Chronic diabetes accelerates vascular dysfunction often resulting in cardiomyopathy but underlying mechanisms remain unclear. Recent studies have shown that the deregulated unfolded protein response (UPR) dependent on highly conserved IRE1α-spliced X-box- binding protein (XBP1s) and the resulting endoplasmic reticulum stress (ER-Stress) plays a crucial role in the occurrence and development of diabetic cardiomyopathy (DCM). In the present study, we determined whether targeting MAPK/ERK pathway using MEK inhibitor U0126 could ameliorate DCM by regulating IRE1α-XBP1s pathway.
Method: Three groups of 8-week-old C57/BL6J mice were studied: one group received saline injection as control (n=8) and two groups were made diabetic by streptozotocin (STZ) (n=10 each). 18 weeks after STZ injection and stable hyperglycemia, one group had saline treatment while the second group was treated with U0126 (1mg/kg/day), 8 weeks later, all groups were sacrificed. Cardiac function/histopathological changes were determined by echocardiogram examination, Millar catheter system, hematoxylin-eosin staining and western blot analysis. H9C2 cardiomyocytes were employed for in vitro studies.
Results: Echocardiographic, hemodynamic and histological data showed overt myocardial hypertrophy and worsened cardiac function in diabetic mice. Chronic diabetic milieu enhanced SUMOylation and impaired nuclear translocation of XBP1s. Intriguingly, U0126 treatment significantly ameliorated progression of DCM, and this protective effect was achieved through enriching XBP1s' nuclear accumulation. Mechanistically, U0126 inhibited XBP1s' phosphorylation on S348 and SUMOylation on K276 promoting XBP1s' nuclear translocation. Collectively, these results identify that MEK inhibition restores XBP1s-dependent UPR and protects against diabetes-induced cardiac remodeling.
Conclusion: The current study identifies previously unknown function of MEK/ERK pathway in regulation of ER-stress in DCM. U0126 could be a therapeutic target for the treatment of DCM.
Keywords: XBP1s, diabetic cardiomyopathy, endoplasmic reticulum stress, SUMOylation, U0126