Int J Biol Sci 2021; 17(12):3000-3012. doi:10.7150/ijbs.60866 This issue
Research Paper
SEC23A Inhibit Melanoma Metastatic through Secretory PF4 Cooperation with SPARC to Inhibit MAPK Signaling Pathway
1. Institute of Life Sciences, Chongqing Medical University, Chongqing, China.
2. State Key Laboratory of Ultrasound Engineering in Medicine Co-Founded by Chongqing and the Ministry of Science and Technology, School of Biomedical Engineering, Chongqing Medical University, Chongqing, China.

This is an open access article distributed under the terms of the Creative Commons Attribution License (https://creativecommons.org/licenses/by/4.0/). See http://ivyspring.com/terms for full terms and conditions.
Citation:
Zeng B, Sun Z, Zhao Q, Liu D, chen H, Li X, Xing HR, Wang J. SEC23A Inhibit Melanoma Metastatic through Secretory PF4 Cooperation with SPARC to Inhibit MAPK Signaling Pathway.
Int J Biol Sci
2021; 17(12):3000-3012. doi:10.7150/ijbs.60866. Available from
https://www.ijbs.com/v17p3000.htm
Abstract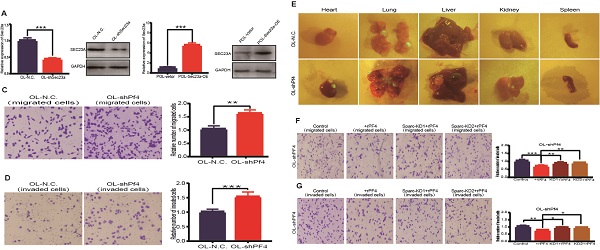 Metastasis of melanoma to the distant organs is a multistep process in which the tumor microenvironment (TME) may play an important role. However, the relationship between metastatic progression and TME is intricate. In the present study, using melanoma derivative cell lines OL (oligometastatic) and POL (polymetastatic) that differ in their metastatic colonization capability, we have elucidated a new mechanism involving "SEC23A-PF4-MAPK/ERK axis" in which PF4 transported by COPII hinders metastasis through inhibition of MAPK/ERK signaling pathway. Furthermore, SPARC can act cooperatively to enhance the inhibition of Pf4 on ERK phosphorylation and melanoma cell metastasis. Our findings show the possibility of targeting cancer cell secretome for therapeutic development.
Keywords: melanoma, Sec23a, Pf4, Sparc, MAPK