Int J Biol Sci 2021; 17(12):3036-3047. doi:10.7150/ijbs.61566 This issue
Review
Partial EMT in Squamous Cell Carcinoma: A Snapshot
1. Department of Orthodontics II, Affiliated Stomatological Hospital of Zunyi Medical University, Zunyi 563000, China
2. Oral Disease Research Key Laboratory of Guizhou Tertiary Institution, School of Stomatology, Zunyi Medical University, Zunyi 563006, China
3. Department of Gastroenterology, Affiliated Hospital of Zunyi Medical University, Zunyi 563000, China
4. Microbial Resources and Drug Development Key Laboratory of Guizhou Tertiary Institution, Life Sciences Institute, Zunyi Medical University, Zunyi 563006, China

This is an open access article distributed under the terms of the Creative Commons Attribution License (https://creativecommons.org/licenses/by/4.0/). See http://ivyspring.com/terms for full terms and conditions.
Citation:
Liao C, Wang Q, An J, Long Q, Wang H, Xiang M, Xiang M, Zhao Y, Liu Y, Liu J, Guan X. Partial EMT in Squamous Cell Carcinoma: A Snapshot.
Int J Biol Sci
2021; 17(12):3036-3047. doi:10.7150/ijbs.61566. Available from
https://www.ijbs.com/v17p3036.htm
Abstract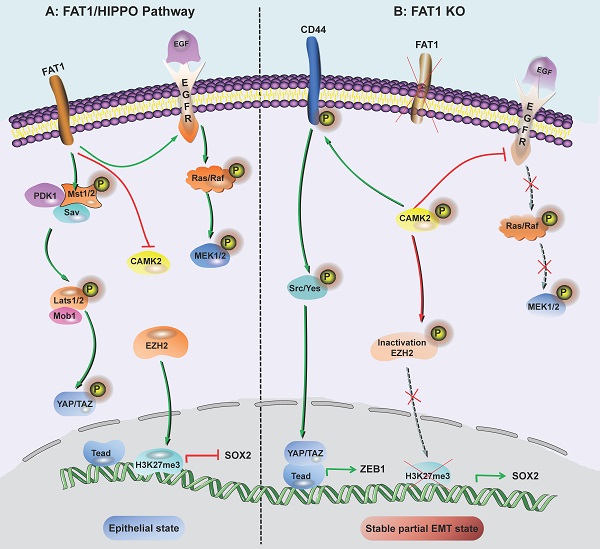 In the process of cancer EMT, some subgroups of cancer cells simultaneously exhibit both mesenchymal and epithelial characteristics, a phenomenon termed partial EMT (pEMT). pEMT is a plastic state in which cells coexpress epithelial and mesenchymal markers. In squamous cell carcinoma (SCC), pEMT is regulated, and the phenotype is maintained via the HIPPO pathway, NOTCH pathway and TGF-β pathways and by microRNAs, lncRNAs and the cancer microenvironment (CME); thus, SCC exhibits aggressive tumorigenic properties and high stemness, which leads collective migration and therapy resistance. Few studies have reported therapeutic interventions to address cells that have undergone pEMT, and this approach may be an effective way to inhibit the plasticity, drug resistance and metastatic potential of SCC.
Keywords: Partial EMT, Squamous Cell Carcinoma, FAT1, HIPPO, NOTCH, TGF-β, Collective migration, Stemness, Therapeutic resistance