Int J Biol Sci 2021; 17(12):3048-3058. doi:10.7150/ijbs.62293 This issue
Research Paper
ELTD1 promotes invasion and metastasis by activating MMP2 in colorectal cancer
1. Department of Gastroenterology, the Second Affiliated Hospital of Zhejiang University School of Medicine, Hangzhou 310020, China
2. Shulan International Medical College, Zhejiang Shuren University, Hangzhou 310015, China.
3. Institution of Gastroenterology, Zhejiang University, Hangzhou 310000, China
#These authors have contributed equally to this work and share first authorship

This is an open access article distributed under the terms of the Creative Commons Attribution License (https://creativecommons.org/licenses/by/4.0/). See http://ivyspring.com/terms for full terms and conditions.
Citation:
Sun J, Zhang Z, Chen J, Xue M, Pan X. ELTD1 promotes invasion and metastasis by activating MMP2 in colorectal cancer.
Int J Biol Sci
2021; 17(12):3048-3058. doi:10.7150/ijbs.62293. Available from
https://www.ijbs.com/v17p3048.htm
Abstract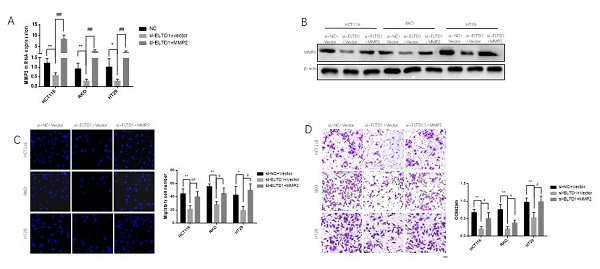 Metastasis is a key factor that affects the prognosis of colorectal cancer (CRC), and patients with metastasis have limited treatment options and poor prognoses. EGF, latrophilin, and seven transmembrane domains containing 1 (ELTD1/ADGRL4) are members of the adhesion G protein-coupled receptor (aGPCR) superfamily. In this study, high expression of ELTD1 was correlated with lymph node metastasis and poor outcomes in CRC patients. Both in vitro and in vivo studies showed that ELTD1 markedly promoted the invasion and metastasis of CRC. Moreover, ELTD1 accelerated the transcriptional activity of MMP2, which could rescue the impaired invasiveness of CRC cells caused by the downregulation of ELTD1 expression. In conclusion, our study suggests that ELTD1 might be a potential novel target for the treatment of CRC metastasis.
Keywords: ELTD1, MMP2, invasion, metastasis, colorectal cancer