Int J Biol Sci 2021; 17(12):3104-3117. doi:10.7150/ijbs.58916 This issue
Research Paper
Circular RNA circBCBM1 promotes breast cancer brain metastasis by modulating miR-125a/BRD4 axis
1. Department of Central Laboratory, Liaocheng People's Hospital, Medical College of Liaocheng University, Liaocheng, P.R. China
2. Department of Neurology, Dongchang Fu People's Hospital, Liaocheng, P.R. China
3. Department of Clinical Laboratory, Liaocheng People's Hospital, Medical College of Liaocheng University, Liaocheng, P.R. China
4. Medical College of Liaocheng University, Liaocheng, P.R. China

This is an open access article distributed under the terms of the Creative Commons Attribution License (https://creativecommons.org/licenses/by/4.0/). See http://ivyspring.com/terms for full terms and conditions.
Citation:
Fu B, Liu W, Zhu C, Li P, Wang L, Pan L, Li K, Cai P, Meng M, Wang Y, Zhang A, Tang W, An M. Circular RNA circBCBM1 promotes breast cancer brain metastasis by modulating miR-125a/BRD4 axis.
Int J Biol Sci
2021; 17(12):3104-3117. doi:10.7150/ijbs.58916. Available from
https://www.ijbs.com/v17p3104.htm
Abstract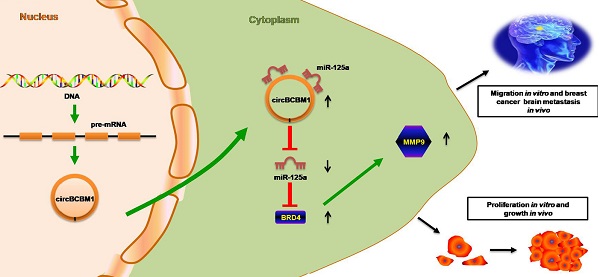 Circular RNAs (circRNAs) play critical roles in tumorigenesis and the progression of various cancers. We previously identified a novel upregulated circRNA, circBCBM1 (hsa_circ_0001944), in the context of breast cancer brain metastasis. However, the potential biological function and molecular mechanism of circBCBM1 in breast cancer brain metastasis remain largely unknown. In this study, we confirmed that circBCBM1 was a stable and cytoplasmic circRNA. Functionally, circBCBM1 promoted the proliferation and migration of 231-BR cells in vitro and growth and brain metastasis in vivo. Mechanistically, circBCBM1 acted as an endogenous miR-125a sponge to inhibit miR-125a activity, resulting in the upregulation of BRD4 (bromodomain containing 4) and subsequent upregulation of MMP9 (matrix metallopeptidase 9) through Sonic hedgehog (SHH) signaling pathway. Importantly, circBCBM1 was markedly upregulated in the breast cancer brain metastasis cells and clinical tissue and plasma samples; besides, circBCBM1 overexpression in primary cancerous tissues was associated with shorter brain metastasis-free survival (BMFS) of breast cancer patients. These findings indicate that circBCBM1 is involved in breast cancer brain metastasis via circBCBM1/miR-125a/BRD4 axis. CircBCBM1 may serve as a novel diagnostic and prognostic biomarker and potential therapeutic target for breast cancer brain metastasis.
Keywords: breast cancer brain metastasis, circBCBM1, miR-125a, BRD4, biomarker, therapeutic target