Int J Biol Sci 2021; 17(12):3133-3144. doi:10.7150/ijbs.62393 This issue
Research Paper
Genome-scale CRISPRa screening identifies MTX1 as a contributor for sorafenib resistance in hepatocellular carcinoma by augmenting autophagy
Department of Oncology, Shanghai East Hospital, School of Medicine, Tongji University, Shanghai 200120, China

This is an open access article distributed under the terms of the Creative Commons Attribution License (https://creativecommons.org/licenses/by/4.0/). See http://ivyspring.com/terms for full terms and conditions.
Citation:
Li L, Yu S, Hu Q, Hai Y, Li Y. Genome-scale CRISPRa screening identifies MTX1 as a contributor for sorafenib resistance in hepatocellular carcinoma by augmenting autophagy.
Int J Biol Sci
2021; 17(12):3133-3144. doi:10.7150/ijbs.62393. Available from
https://www.ijbs.com/v17p3133.htm
Abstract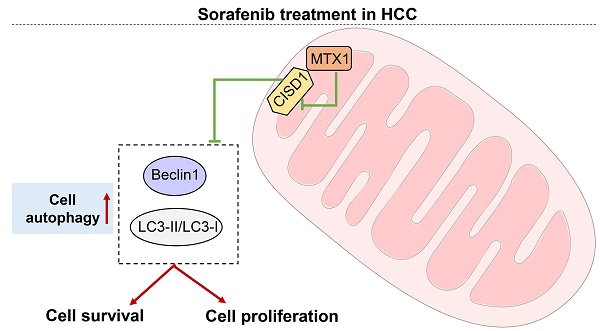 Sorafenib is the standard first-line drug for the treatment of advanced hepatocellular carcinoma (HCC), however, its therapeutic efficacy is not satisfactory due to primary or secondary resistance of HCC cells. In the present study, we identified Metaxin 1 (MTX1) as a new regulator of sorafenib resistance in HCC through genome-scale CRISPR activation (CRISPRa) screening. We found that MTX1 was frequently upregulated in HCC tissues and overexpression of MTX1 promoted HCC cell proliferation in vitro and in vivo. As well, MTX1 overexpression increased cell growth rate and decreased cell apoptosis upon sorafenib treatment. Consistently, the resistance induced by MTX1 was also observed in subcutaneous xenograft tumor model. Clinically, high expression of MTX1 was closely related with poor outcomes in HCC patients who received sorafenib treatment. Mechanistically, overexpression of MTX1 could promote HCC cell autophagy via interacting with and inhibiting CDGSH iron sulfur domain 1 (CISD1), an autophagy negative regulator. Taken together, our findings suggest that MTX1 is upregulated in HCC and contributes to sorafenib resistance via a possible mechanism involving CISD1 mediated autophagy.
Keywords: HCC, MTX1, sorafenib, autophagy, CISD1