Int J Biol Sci 2021; 17(12):3211-3223. doi:10.7150/ijbs.62752 This issue
Research Paper
Rapamycin and trametinib: a rational combination for treatment of NSCLC
1. State Key Laboratory of Oncology in South China, Collaborative Innovation Center for Cancer Medicine, Sun Yat-Sen University Cancer Center, 651 Dongfeng East Road, Guangzhou, China 510060.
2. Department of Medical Imaging, Sun Yat-Sen University Cancer Center, 651 Dongfeng East Road, Guangzhou, China 510060.
* These authors contributed equally.

This is an open access article distributed under the terms of the Creative Commons Attribution License (https://creativecommons.org/licenses/by/4.0/). See http://ivyspring.com/terms for full terms and conditions.
Citation:
Sun CY, Li YZ, Cao D, Zhou YF, Zhang MY, Wang HY. Rapamycin and trametinib: a rational combination for treatment of NSCLC.
Int J Biol Sci
2021; 17(12):3211-3223. doi:10.7150/ijbs.62752. Available from
https://www.ijbs.com/v17p3211.htm
Abstract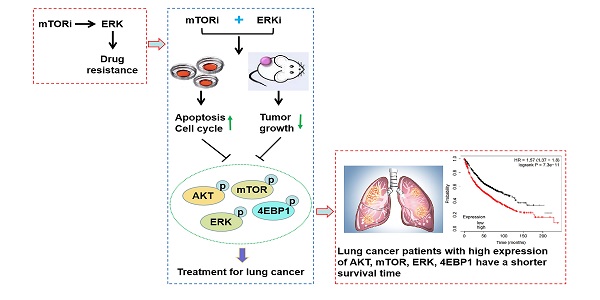 Mammalian target of rapamycin (mTOR) is one of the most commonly activated pathways in human cancers, including lung cancer. Targeting mTOR with molecule inhibitors is considered as a useful therapeutic strategy. However, the results obtained from the clinical trials with the inhibitors so far have not met the original expectations, largely because of the drug resistance. Thus, combined or multiple drug therapy can bring about more favorable clinical outcomes. Here, we found that activation of ERK pathway was responsible for rapamycin drug resistance in non-small-cell lung cancer (NSCLC) cells. Accordingly, rapamycin-resistant NSCLC cells were more sensitive to ERK inhibitor (ERKi), trametinib, and in turn, trametinib-resistant NSCLC cells were also susceptible to rapamycin. Combining rapamycin with trametinib led to a potent synergistic antitumor efficacy, which induced G1-phase cycle arrest and apoptosis. In addition, rapamycin synergized with another ERKi, MEK162, and in turn, trametinib synergized with other mTORi, Torin1 and OSI-027. Mechanistically, rapamycin in combination with trametinib resulted in a greater decrease of phosphorylation of AKT, ERK, mTOR and 4EBP1. In xenograft mouse model, co-administration of rapamycin and trametinib caused a substantial suppression in tumor growth without obvious drug toxicity. Overall, our study identifies a reasonable combined strategy for treatment of NSCLC.
Keywords: Rapamycin, Trametinib, Synergy, Lung cancer, ERK, mTOR